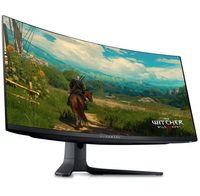 Alienware 34 AW3423DWF | 34-inch | 165Hz | QD-OLED | $1,099.99 $799.99 at Dell (save $250)
Alienware's fancy QD-OLED panel just got that little bit cheaper. It's still not exactly entry-level at $800, but think of it as a long term investment that will make every single gaming session pop. Once you've experienced per-pixel OLED-style lighting, you won't want to go back to LCD tech. You can read our Alienware QD-OLED review for more.
Price check: Best Buy $799.99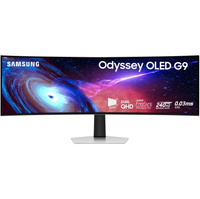 Samsung Odyssey G9 G93SC OLED | 49-inch | 240Hz | 5120 x 1440 | OLED | $1,599.99 $999.99 at Amazon (save $600)
Samsung's hot new silly-wide OLED monitor has barely even been released, but it's already on sale. It doesn't look bad value next to all those $1,000-plus 34-inch ultrawide OLED, does it? This is HDR gaming on a ridiculous scale.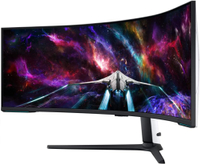 Samsung Odyssey Neo G9 G95NC Dual UHD | 57-inch | 240Hz | 7680 x 2160 | Mini-LED | $2,499.99 $1,999.99 at Amazon (save $500)
57 inches, dual-4K, more nits than you can pick. That's the Samsung Odyssey Neo G9 G95NC. It's a gaming monitor gone mad, but in a good way. If it's a high-DPI gaming experience on the biggest scale possible, only this Samsung can deliver. It's truly spectacular.
When it comes to gaming thrills, a nice, big uberwide monitor simply cannot be beat. And now you can choose among our three favourite high-end models, each at a beefy discount thanks to the unstoppable freight train of consumerism that is Black Friday 2023.
More specifically, we're talking Alienware's best 34-inch OLED, Samsung's monster 49-inch alternative, and a 57-inch dual-4K leviathan, also from Samsung. That's a monitor so big I pretty much snapped it in half moving it around for photography.
But let's begin with the Alienware. We've already featured the Alienware 34 AW3423DWF in an earlier spotlight, so we're a bit keen. That's because it might just be our favorite gaming monitor of the moment. At 34 inches, it's ergonomically viable in a manner the other two monsters here aren't.
It also sports 3,440 by 1,440 pixels, which is again manageable when it comes to GPU load. You won't automatically need an RTX 4090 to escape single-digit frame rates in Cyberpunk 2077 with the ray-tracing twangers set to maximum.
More to the point, it boasts Samsung's gorgeous QD-OLED panel tech with a contrast-optimized gloss coating for per-pixel HDR perfection. It's yours for $800, which isn't exactly a rounding error, but could be a great long term investment, bar OLED burn in doubts beyond the three-year warranty.
Next up, it's the Samsung Odyssey OLED G9 G93SC. Imagine the Alienware with half a foot of extra OLED either side and you've pretty much got its measure. Once again its Samsung's delightful QD-OLED tech under a glossy coating. It's just even wider and comes at a pretty reasonable $200 premium ($999 all-in from Amazon) over the Alienware (and a big discount over its $1,599 launch price) given all the extra screen space.
The only problem is that it's so wide, the gaming ergonomics can be tricky, both in a pure physical sense and being able to comfortably see the whole screen, and in terms of game support, on-screen menus and interface elements and so on. If you just want to play Fortnite at 200 frames per second, the G93SC doesn't make much sense.
Nor, frankly, would the Samsung Odyssey Neo G9 G95NC Dual UHD, the final member of our superwide trio. It's even bigger at 57 inches, but offers the same silly-wide 32:9 aspect ratio. Oh, and the minor matter of 7,680 by 2,160 pixels.
Yup, it's two 4K panels fused into one. And it's absolutely stupendous. Samsung has gone with mini-LED tech not OLED for this one, which means it can hit outrageous highs in terms of brightness. It has full-array local dimming, which is as good as LCD tech gets. But it still can't match the per-pixel lighting precision of OLED.
On the other hand, if you want ultra-crispy pixel density on an epic scale, well, this is your only option. It does things no other gaming monitor can currently match. And all for just $1,999 on Amazon, down from its $2,499 launch price just a few short months ago.
So, if you're flirting with a high-end ultrawide monitor, well, there has never been a better time to buy. You can choose from a range of technologies, sizes and form factors and these discounts are very solid indeed.