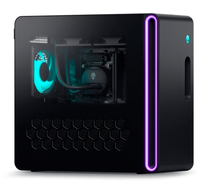 Alienware Aurora R16 | Core i7 13700F | RTX 4080 | 16GB DDR5 RAM | 1TB NVMe SSD| $2,499.99 $1,949.99 at Dell (save $550)
This is one of the cheapest RTX 4080 gaming PCs available right now. You get a solid 16-core CPU, 16GB of DDR5 RAM, and 1TB of NVMe SSD storage. It's a great package, just keep in mind that upgrading can be tricky with Alienware PCs.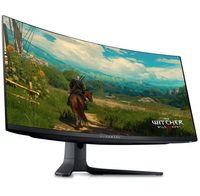 Alienware 34 AW3423DWF | 34-inch | 165Hz | QD-OLED | $1,099.99 $799.99 at Dell (save $250)
Alienware's fancy QD-OLED panel just got that little bit cheaper. It's still not exactly entry-level at $800, but think of it as a long term investment that will make every single gaming session pop. Once you've experienced per-pixel OLED-style lighting, you won't want to go back to LCD tech. You can read our Alienware QD-OLED review for more.
Price check: Best Buy $799.99
It's tempting to dismiss almost everything Dell does with the Alienware brand as a cynical money grab aimed at the cash-rich but clueless. And a lot of Alienware gaming PCs in particular do not look like great value at their full price. But our recent spotlight on Alienware's RTX 4080 box for under $2,000 proves that, just occasionally, the brand offers some excellent gaming PC deals.
Which got us thinking, what if you combined that Aurora R16 rig with one of our very favourite gaming monitor, which also just so happens to be from Alienware and is on offer for as little as it's ever been.
We speak, of course of the Alienware 34 AW3423DWF. The final "F" denotes the cheaper non-G-Sync chipped version of Alienware's 34-inch QD-OLED ultrawide masterpiece, which surprisingly looks better than the more expensive non-F version.
It runs an irrelevant 10Hz slower than its more expensive sibling. But as we found in our Alienware OLED review, it's actually the better display thanks to a glossy coating that really lets the OLED panel sing. It makes for visibly deeper black tones than the matte anti-glare surface of the non-F panel.
The net result is HDR performance that wallops any LCD monitor, even those with local dimming. They simply can't compete with the per-pixel lighting control of OLED.
Another element they can't compete with is OLED's epic pixel response. Sure, the latest overdriven IPS monitors are pretty zippy. But QD-OLED panels like the Alienware are a full order of magnitude faster still. Put simply, the response problem is solved with QD-OLED.
The burn-in problem, on the other hand... well, the jury is still out on that to some extent. You get a proper three-year warranty from Alienware, so you're safe for that long at least. But beyond the warranty period, it's a little trickier to say.
As for the Aurora R16, the main attraction is obviously the beefy RTX 4080 graphics. It's one heck of a GPU and a fantastic partner for the QD-OLED panel. You also get 1TB of SSD storage, 16GB of DDR5 RAM (dual channel), and an Intel Core i7 13700F. Oh, and a 1000W platinum PSU.
The RAM is really the only significant weakness, at this price we'd probably want 32GB. But it's also a super easy fix with DDR5 prices lower than ever. In short, as a premium gaming solution, it doesn't come a whole lot better than this RTX 4080 and QD-OLED combo.