Alienware and Dell announced that it is revamping their entire gaming laptop line this week at CES 2023. From super-thin to hulking workstations, Alienware and Dell are hoping their newly designed laptops will catch your eye, regardless of budget.
The M series laptops are the Alienware flagship laptops that come in 16-inch and 18-inch models. That's right, a massive 18-inch QHD+ (2560 x 1600) panel is available in 165Hz or FHD+ (1920 x 1200) with 480Hz in a 16:10 aspect ratio giving you more on a screen than the typical 16:9.

The powerful m18 desktop replacement not only has a larger screen, but it's got plenty going on the hood. It'll be available with Intel's latest 13th Gen Core i9-13980HX processor and 'next-gen' Nvidia RTX Laptop GPUs, presumably something from the RTX 40-series (opens in new tab) family.
AMD fans will be happy to know there will be specs of the m18 available for purchase with AMD's newest yet-announcedRyzen CPUs and Radeon GPUs. Alienware says its M series it's improved cooling will increase thermal capacity by 35% and increase airflow by 25%.

The high-end configurations of the Alienware m18 will launch "this winter," according to the press release, with prices starting at $2,899 in the US. Alienware will release entry-level models later this year at a more reasonable price of $2099.
The X series is Alienware's thin luxury gaming notebook that is significantly thinner than the M series, with the x14 being touted "as the world's thinnest 14-inch gaming laptop," according to the company, which measures .57 inches thick.

The x14 will ship with an RTX 3050, 4050, or 4060 GPU this winter, starting at $1,799. If that's a little too small for you, there's the x16, which is the 16-inch model starting at $3,099. There will also be entry-level specs starting at $2,149
On the budget side, Dell is releasing its G15 and G16 gaming laptops this Spring for $849 and $1,499, respectively, in some fun colors.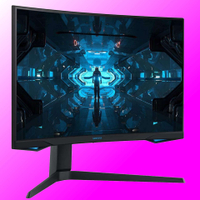 (opens in new tab)