Black Friday is the best time to commit to a new gaming monitor. A new screen tends to be one of the pricier purchases you can make for your PC—especially at the high-end—and there are plenty of specs and technological advances to decode. Don't worry, as our guide to the best gaming monitors will break it all down for you, recommending what you should look out for based on your budget. We do recommend spending as much as you can afford on a new monitor, though, as the best screens can support your gaming setup for up to a decade. It'll could even outlast every major component in your PC twice over.
The Best Black Friday Gaming Laptop deals
Jump straight to the deals you want...
1. Gaming Monitor deals
2. Gaming TV deals
Right now, your best bet is a quality 144Hz screen with 1440p native resolution and IPS or VA panel. They offer much better colours than TN screens, while still hitting high refresh rates.
If you're planning to get a monitor that pairs well with an RTX 3080 or even RTX 3090—when they're more widely available—be sure to keep an eye out for the best G-Sync monitors. We'll also be keeping an eye trained on FreeSync compatible monitors for future AMD RX 6000-series owners. And hey, if you don't know what graphics card you'll be getting next, there are even some G-Sync compatible FreeSync monitors out there too.
Monitors aren't as volatile as other PC gaming hardware markets, but you'll still find a wide variance in price—often on similarly specced tech. Our aim here is to keep you updated on the best screens that are still offering Black Friday deals. Most of the best Black Friday savings are likely to be in place by now, although we may see a few more deals arrive for Cyber Monday.
Black Friday deals: quick links
Black Friday Gaming Monitor deals
Alienware AW3420DW | 34-inch Curved | 120Hz | 4K | £1,304.10 £829.79 at Dell
This is the cream of the IPS monitor crop, with G-Sync for Nvidia users. It'll let you make the most of those gorgeous next-gen RTX games, and the 120Hz refresh rate is more than enough to deliver a smooth, immersive gaming experience at 4K. And you're saving a ridiculous £474, tooView Deal
ASUS ROG Swift PG279QE | 27-inch | 165Hz | 1440p | £715.98 £609.99 at Ebuyer
A nifty G-Sync monitor for those Nvidia peeps looking to get some 1440p gaming in. It may be a slightly older model, but you still get a great refresh rate, and a decent resolution IPS screen, with over £100 saved.View Deal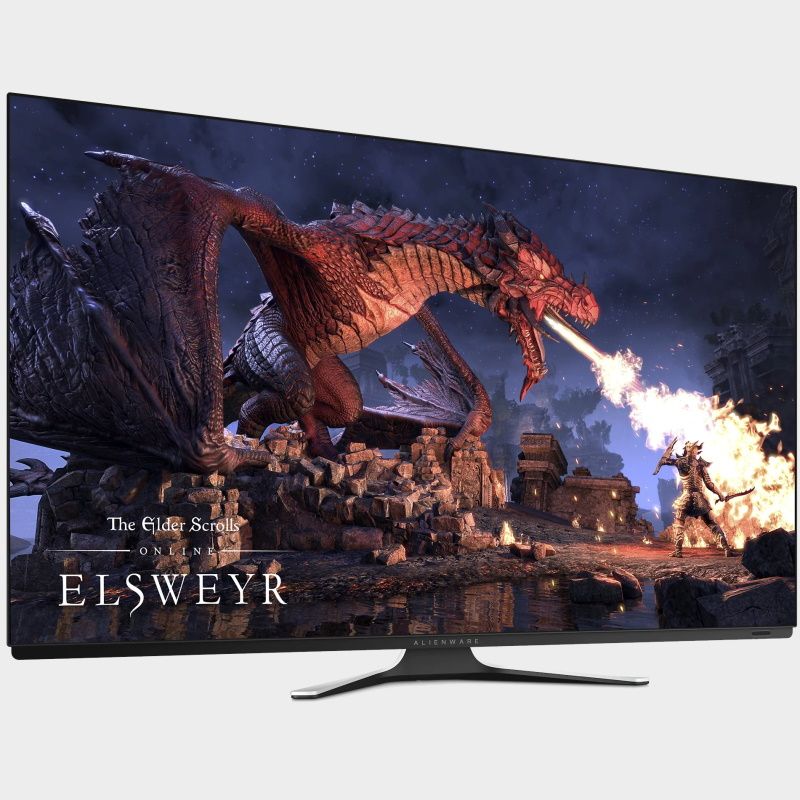 Alienware OLED QW5520QF | 55-inch | 4K | £3,576.60 £1,699.31 at Dell
If you want big-screen entertainment, it doesn't much better than this. This OLED 4K panel boasts incredible contrast, supports a supersweet 120Hz refresh rate that is FreeSync and G-Sync compatible and it has a refresh rate of 0.5ms. It even comes with its own remote. That's a massive saving too, at 52% off.View Deal
ASUS ROG Swift PG248Q | 24-inch | 180Hz | 1080p | £544.97 £369.97 at Laptops direct
The smaller version of the PG279Q (one of our best gaming monitors), this ones not only got G-sync capability, but also boasts a 1ms response time, and a whopping 180Hz refresh rate. It may only be a 1080p monitor, but that means you can focus on cracking speeds, rather than checking out every tiny in-game graphic detail. These are selling fast, so don't delay.View Deal
ASUS TUF VG32VQ | 31.5-inch | 144Hz | 1440p | £435.99 £399.99 at Ebuyer
A more affordable curved 1440p panel here, with the exceptional Asus build quality we've come to expect. It also features FreeSync technology and awesome low input lag, with a not-so-average 144Hz refresh rate to keep everything running smoothly. View Deal
ASUS VG258QR | 24.5-inch | 165Hz | 1080p | £250.35 £228.99 at Ebuyer
This competitive gaming monitor comes with G-sync compatible FreeSync tech, to reduce screen tear for AMD and Nvidia users alike. It may not be the highest resolution, but you're saving over £21 on a decent, mid-range panel, with a pretty stylish design.View Deal
HP 27fw | 27-inch | 75Hz | 1080p | £189 £139 at Currys
This FreeSync monitor will pair well with AMD graphics cards and it comes with built in speakers. It's a super affordable quality IPS screen, with a 75Hz refresh rate, so it should fair well. And, although 1080p isn't the highest resolution out there, this ones hard to beat when you're saving £50. View Deal
Samsung S24F354 | 24-inch | 60Hz | 1080p | £129 £89.99 at Currys
This is another bargain, for all your standard resolution gaming needs. Sporting FreeSync technology, this panel provides a decent 1080p experience if funds are tight. There's also a 27-inch version available for £80 off, and both are available with 20% off a 3 year instant replacement warranty, which is nice.View Deal
LENOVO C22-25 | 21.5-inch | 75Hz | 1080p | £79.99 £59.99 at Currys
A little smaller than most, this monitor is still a great bargain for your office needs, or if you want to do some basic standard 1080p resolution gaming. Size isn't everything, besides, the 75Hz refresh is not the worst. Unfortunately, there's no FreeSync or G-Sync capabilities here, but it can be wall mounted, and it's pretty damn cheap right now.View Deal
Black Friday TV deals
SAMSUNG QE49Q80TATXXU | 49-inch | QLED | 4K | £1,099.00 £799 at Currys
This is a really decent 4K gaming TV, one that puts out a decent colour range and excellent contrast in ultra HD glory. Though it has its downfalls with a slightly over-grainy look, it also comes with smart TV features, adaptive sound and it's £300 off right now.View Deal
LG OLED55CX6LA | 55-inch | OLED | 4K | £1,599 £1,299 at Currys
With £300 savings, this 4K OLED TV is a bargain right now. You'll get the blackest blacks, coupled with great a colour range across the vast 55 inch panel at a wondrous ultra-high resolution. It also comes with Smart TV tech, and Dolby Atmos cinematic sound built in. A right bargain, if you ask me.View Deal
LG OLED55CX6LB | 55-inch | OLED | 4K | £1,199 £1,098 at Currys
A slightly newer model of the above, this is even better value for money, even without the sale. It may be lacking voice control, but otherwise it has all the same features as its predecessor, and for a fraction of the price.View Deal
Sony Bravia A8 | 65-inch | OLED | 4K | £2,599 £1,999 at Currys
Ridiculous savings of £600 here, on a fantastic ultra high resolution panel with a crystal clear, quality picture, and ultra wide viewing angles. It's a Smart Android TV, which isn't to everyone's tastes, but it does have a lot of great features, including sought after OLED tech, for those amazingly dark contrasts.View Deal
What to look out for in a Black Friday gaming monitor
When it comes to Black Friday gaming monitor deals the slack pace of progress in screen technology is a blessing. It means that a great five year-old display will still be a great gaming monitor today. So don't be put off if the panel you're looking at isn't necessarily a 2020 model.
The main thing to look out for, apart from the relative historical pricing (camelcamelcamel is your friend here) of the screen in question, is its native resolution. You want it to match up to your current and prospective graphics card. If you're going to be rocking a GPU that isn't capable of running games at 4K then you're wasting your money chasing that super-high UHD res.
Native resolution is also important when it comes to ultrawide screens too, and mostly because of that second number in the equation. A 3440 x 1440 display will be 1440 pixels high, and I'm going to say that's a minimum for ultrawides; anything lower is going too far down the letterbox route.
The next number is refresh rate. Simple 60Hz screens are no good no more. Even down at the budget end of the market you can usually bank on at least a 75Hz refresh in a cheap IPS display. And, trust me, you can tell the difference even with that small a difference. Pump things up to 120Hz, 144Hz, or even 240Hz and you will definitely be able to tell.
It may sound like heresy, but it doesn't matter if your GPU cannot deliver a solid 120fps on average, a 120Hz refresh will look great no matter what you're doing with your new gaming monitor.
Then it's all about panel technology. Personally I love an IPS screen, they deliver the best color accuracy but can suffer from slower response times and weak black levels, while a VA display isn't quite as solid on color, but is quicker to respond. Only the esports pros who care nothing for visual fidelity should consider a TN panel with its weak image quality but penchant for lightning fast refresh rates and response.
If you're planning to upgrade your machine to house one of Nvidia's new Ampere graphics cards, such as the RTX 3080 or RTX 3090, having one of the best G-Sync monitors is necessary to make the best of these high-powered cards. G-Sync being Nvidia's adaptive sync technology, a feature that reduces screen tearing, and display stutter, by syncing your refresh rate to that of your GPU.
Alternatively, the best G-Sync Compatible FreeSync monitors are out there, and they're certified by Nvidia to work with G-Sync. Although they are not the best quality monitors out there, usually you can find them cheaper. They also support AMD's FreeSync technology, if you're looking to buy a new AMD 6000-series GPU when they become available.