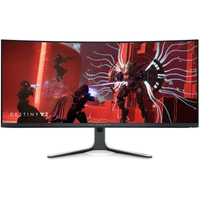 Alienware AW3423DW | 34-inch | 3440 x 1440p | 175Hz | 1800R Curvature | $1,299.99 $1,139.98 at Dell (save $160)
A 34-inch 21:9 screen with a 1800R curve and 3,440 by 1,440 native resolution is a great base spec for a high-end gaming screen. But the AW3423DW's QD-OLED panel sets it apart from the rest of the pack.
Dell has a deal on the Alienware 34 QD-OLED, which by our measure is the best gaming monitor you can get right now, for $1,139, $160 off its usual price. It was on sale for $1,100 earlier this week on Amazon but no longer. That was the best price we've seen so far, and waiting to see if it dips again could be wise, but Dell's current deal isn't bad at $39 more. It's such a good monitor, we felt it was worth pointing out anyway.
Our review of the AW3423DW praised its "fabulous contrast and colors" and its fast pixel response. It's got a 1440p resolution—still our preferred resolution for gaming, a great compromise between 1080p and 4K—and has a refresh rate of 175Hz with a .1ms response time.
Those are good specs, but this 34-inch ultrawide seems pretty unassuming until you see it in action. We've got one of these in the PC Gamer testing lab in New York, and I can't count the number of times someone walking by has commented on how good games look on this thing.
It looks this good because it uses the fancy new Samsung QD-OLED panels seen in other premium displays like the Philips Evnia, another of our favorites. This gives the Alienware excellent color, contrast, and brightness. One thing we don't like is the AW3423DW's lack of HDMI 2.1 support, which means Xbox Series X and PS5 owners won't get the most out of the monitor's 175Hz refresh rate, so consider that if you plan to use it for more than PC gaming.
One pro tip from our review: Change the display settings to HDR 400 Black mode, then set the SDR brightness higher in the Windows Display Settings so that SDR content looks good. After that, there's no need to change between SDR and HDR modes.
The monitor includes a three-year warranty covering potential burn-in, a risk on displays with OLED panels. Alienware implements anti-burn-in measures like pixel shifting and an Automatic Brightness Limiter (ABL), which aren't too intrusive for day-to-day use, and the warranty gives you some peace of mind.