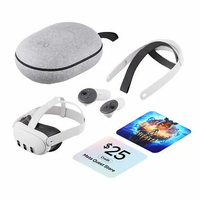 Meta Quest 3 Bundle | VR Headset | 128 GB | $725 $599.99 at Costco (save $125)
The Meta Quest 3 is everything we wanted in a Quest 2 (see our review): more power, better resolution, and increased comfort. This bundle at Costco is tossing a carrying case, an elite strap, a free copy of Asgard's Wrath 2, and a $25 Meta Quest Store digital gift card for just $600. It's a great deal to give you everything you need to start playing.
Call me crazy, but VR gaming might be back on the upswing. With the recent release of the Meta Quest 3, I'm feeling a renewed excitement about hopping back into a virtual reality. This great deal on this Meta Quest 3 bundle at Costco for only $600 might be the best for you to give VR gaming a shot.
The 128GB headset retails for $500, the carrying case and elite strap sell for $70 each, and Asgards Wrath 2 costs $60. Toss in the $25 gift card, and you're getting a decent haul for the extra $100, and you're still saving $125 once it's all said and done. And perhaps it's the best Quest 3 bundle I've seen since launch.
The Quest 3 is an all-around fantastic headset that improves almost everything I like about the Quest 2 without changing the overall design and ease of use I've grown accustomed to. It's twice as powerful as the Quest 2, the pancake lenses give the headset a slimmer profile, and the passthrough camera looks incredible.
And if you're upgrading from a Quest 2 to a Quest 3, all your games and apps are backward compatible, and some games like Pistol Whip or Into The Radius look and perform better on the new hardware.
The biggest selling point of the Quest 3 is that it's completely wireless and doesn't require much setup. There is no need to install base stations to track your controllers, and it can run games natively on the headset itself, so you can play VR games anywhere with enough room to swing your arms around.
It also supports Quest Air Link, wirelessly allowing the headset to tether itself to a gaming PC. If most of your VR games are on Steam, you're beaming those games from the PC to the Quest headset with little to no loss of quality and latency.
However, if your home wireless network isn't great, consider picking up a Quest Link cable to tether the headset to your gaming PC. The link cable (like other Quest accessories) is wildly overpriced at $80, and you could get away with a third-party cable at a fraction of the price.
There is a more expensive option for the Quest 3 with a lot more storage ($650 for 512GB), but VR games and apps generally take up less space than you think, though there are a few exceptions. I prefer to use Air Link and have my PC handle the load anyway (and game storage), so you can make the 128GB go a long way.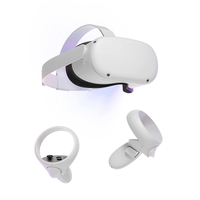 Meta Quest 2 | VR Headset | 128 GB | $299.99 at Amazon
The Meta Quest 2 is the VR headset that suits most users (see our review). It runs stand-alone or with the power of your sick gaming computer, without any wires required.
If the Quest 3 is still too rich for your blood, the Quest 2 is still a good option for VR beginners at $300. Yeah, it's been almost four years since launch, but I'd still recommend it for VR newbies who don't want to spend a lot of cash. And honestly, it's still a good VR headset.
However, if you want better resolution, more power, or to mess with mixed reality gaming, this Quest 3 bundle is worth it and still way cheaper than the Meta Quest Pro and whatever the heck Apple is cooking up.