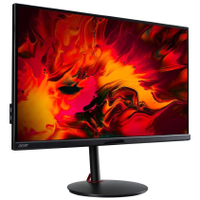 Acer Nitro XV282K | 28-inch | 4K | 144Hz | IPS | $499.99 $399.99 at Newegg (save $100)
If you're looking for a cheap 4K monitor upgrade but you also want lots of gaming features, then the Acer Nitro XV282K is well worth considering. The IPS panel is bright and colorful, and supports AMD's FreeSync Premium for a maximum refresh rate of 144Hz. There are better choices for HDR gaming, as it's only rated for HDR400, and the preset modes aren't great, either. There are two HDMI 2.1 for consoles and graphics cards, along with a DisplayPort and USB connections. You even get an integrated KVM switch.
This particular 4K monitor by Acer isn't the most well-known of its models, probably because the Nitro brand is targeted more toward 1080p gaming and its original MSRP was in the highly competitive area of $900.
It can be found a lot cheaper than that now, and this deal makes it even more of a bargain. And you're getting a lot of monitor for your money. The 28-inch 4K panel is bright and crisp, displaying colors accurately and quickly.
Acer claims a response time (grey-to-grey) of 1 millisecond and while it's not quite that fast in real situations, it's more than enough for most PC gamers. With a maximum refresh rate of 144Hz and support for AMD's FreeSync Premium, your eyes will thank you for the tear-free smooth images.
It's not the very best gaming monitor you can get, especially when it comes to HDR (high dynamic range), but it's perfectly okay. It's rated to VESA HDR400 which is about as good as any IPS panel can get. It's the preset modes in the monitor's control panel that let it down the most, as without some additional configuration, they don't look very nice.
Fortunately, these are easy to adjust and you can even install a small app on your PC to configure it from within Windows.
In terms of connectivity, there's lots on offer with two HDMI 2.1, one DisplayPort 1.4, and a host of USB ports all tucked underneath the screen. That does make them a little fiddly to get to, but how often do you need to change cables anyway? To top it all off, Acer even included a KVM switch, too.
This Nitro XV282K is one of the monitors I use for all my daily work and gaming, and it fits my needs perfectly. But don't just take my word for it, check out our sister site Tom's Guide for its review on Acer's great monitor.