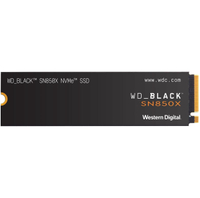 WD Black SN850X | 1TB | NVMe | PCIe 4.0 | 7,300MB/s read | 6,300MB/s write | $159.99 $59.99 at Amazon (save $100)
This is our favorite SSD for gaming right now. Unlike the cheaper SN770, the SN850X encapsulates the best PCIe 4.0 offers in terms of performance (check out our review). That makes it a great fit for a boot drive with space to spare for your game library, and at this price, we're happy to pay the premium for its higher speed.
Price check: Best Buy $69.99 | Newegg $69.99
Amazon has a fantastic deal on a killer 1TB NVMe SDD for just $60, making it an excellent upgrade for any aging gaming PC. With SSD prices at an all-time low, it's no wonder we're seeing a plethora of outstanding NVMe SSD deals this week.
The 1TB WD Black SN850X typically retails for around $80, but I've noticed it occasionally spiking to its original launch price of $160 recently. But at $60, it's the lowest price I've seen for what is arguably the best SSD for gaming.
This PCIe Gen 4 drive boasts a read speed of 7,300MB/s and a write speed of 6,300MB/s. Launched around this time last year, it's faster than the 1TB SK Hynix Platinum P41 SSD that we really liked from a while back, and it's $12 cheaper.
Our review of the WD Black SN850X highlighted its consistent performance and efficient thermal management. However, it's worth noting that its performance is not a significant leap over the SN850. But the choice is clear considering the current discount on the SN850X and the absence of one on the SN850.
The SN850X is also a great SSD to upgrade your PS5 storage, and you could do it yourself without voiding your warranty. All you need is a tiny screwdriver and a bunch of games to download.
If you have cooling concerns, for an extra $10, you could get the version of the SN850X that includes a heatsink. But if your motherboard already comes with its own M.2 SSD cooling kit, save yourself the cash and skip the heatsink.
If more storage on the cheap is what you're looking for, and let's face it, game installs aren't getting any smaller. Amazon also offers the 2TB version of the SN850X for only $99. While there might be less expensive 2TB SSDs out there, few can match the speed of this one.