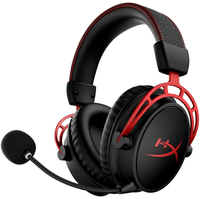 HyperX Cloud Alpha Wireless | 50mm dual chamber drivers | 15 - 21,000Hz | Closed-back | 300 hrs battery | $199.99 $149.99 at Amazon (save $50 Prime Exclusive)
This is our favorite wireless gaming headset (check out our review), thanks to its excellent sound reproduction and the simple fact that its battery lasts, and lasts, and lasts. Rated at 300 hours it's going to be a long time between charges. The Cloud Alpha Wireless doesn't often get this cheap, and is regularly above this price point, and has only ever dropped below it a couple of times, and only then by a couple of dollars.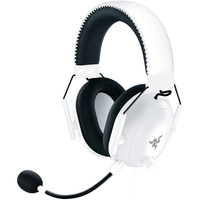 Razer BlackShark V2 Pro Wireless | 50mm Tri-Force | 12 - 28,000Hz | Closed-back | $179.99 $99.99 at Amazon (save $80)
I'm writing this copy listening to War on Drugs through these exact cans, and they are absolutely my go-to gaming headset. And I have access to a lot of gaming headsets... The multi-chamber driver design gives them supreme clarity and almost an open back soundstage. And for under $100, they're an outstanding wireless headset in black or white.

Price check: Best Buy $99.99
If you're looking to snag yourself a decent Amazon Prime Day wireless gaming headset deal then you're in luck. Not one, but two of our favorites are currently on offer, meaning won't need to be tethered to your PC if need to step away to grab those all-important snacks. Both the HyperX Cloud Alpha Wireless and the Razer BlackShark V2 Pro are on sale today and both happen to feature prominently at the top of our best wireless gaming headsets guide—if that's not music to your ears, I don't know what is.
First up, the HyperX Cloud Alpha Wireless probably needs little introduction. Right now you can snag it for $149.99 at Amazon, netting you the listed saving of $50. Technically, it's more like a $30 saving when you take into account the historical price changes, but it's still a good deal for one of the best wireless headsets out there.
The Cloud Alpha Wireless has sat at the top of our favorite gaming headsets list for quite a while now, thanks to the superb sound, a clear mic, and DTS surround sound. It's surprisingly lightweight too, and the 300-hour battery life is incredible.
Then there's the Razer BlackShark V2 Pro, which has dropped beneath $100 and is currently sitting at $99.99 on Amazon. That's $80 beneath its RRP, though, in real terms, you're probably looking at a saving closer to $30 given recent price history. It's still a great headset though, and what makes this deal even better is that you don't actually need Prime Membership to take advantage of it.
As for the tech stuff, the BlackShark V2 Pro boasts an outstanding sound quality, largely thanks to the TriForce driver design. It might not be the most flashy headset around, but the audio experience is as good as any dedicated gaming headset is able to offer. This is something I can attest to as I've been using the wired version for close to two years now with zero complaints and many compliments on the clarity of the mic.
If neither of those options are tickling you or you're after something else entirely for your gaming rig, check out the other Amazon Prime Day gaming deals we've spotted.