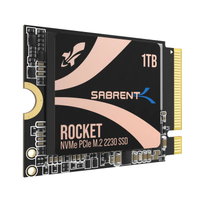 Sabrent Rocket 2230 | 1TB | NVMe | PCIe 4.0 | 4,750MB/s read | 4,300MB/s write | $269.99 $109.95 at Amazon (save $160)
This is a very high-capacity version of our favorite 2230 form factor NVMe SSD for the Steam Deck. While you are paying a premium for handheld compatibility, pairing this with the cheap Steam Deck would save you $80.01 over the top capacity Deck and double the storage space.

Price check: Newegg $109.99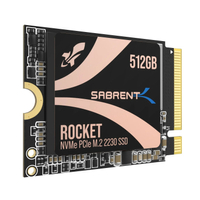 Sabrent Rocket 2230 | 512GB | NVMe | PCIe 4.0 | 5,000MB/s read | 3,700MB/s writes | $89.99 $74.99 at Amazon (save $15)
The 512GB drive is a great middle-ground for Steam Deck upgrades. Add the price of this and the $399 64GB Deck together, and you still save $160.01 over buying the top tier Deck. That's with well-improved read/write speeds, too.

Price check: Sabrent $74.99 | Newegg $74.99
If your Steam Deck is already starting to sweat at your game choices, it may be time for an upgrade. There are two great Prime Day SSD deals on Sabrent drives that come in the small factor NVMe your Steam Deck requires. Both are faster than the Steam Deck's standard SSD, and the 1TB option is larger than the built-in storage space on even the largest Deck model for just $109.
If you've got one of the lower capacity Steam Decks with a current 64GB or 256GB drive, then you can get a storage and speed upgrade by grabbing the 512GB Sabrent Rocket 2230 for a modest $15 discount to $75. If you pay a bit more, you can bag the 1TB drive for just $109 which is a pretty steep 60% off its typical price.
PC Gamer hardware writer Katie Wickens already said the Sabrent 2230 SSD's may be the "Steam Deck SSD of my dreams" when it dropped at the end of last year. "While Sabrent is not the first manufacturer to have come out with an M.2-bound SSD in the 2230 form factor, most can't match the kind of speeds we see in larger form factor SSDs," she said. And after getting hands on with it in March she gave it an 80% in our Sabrent Rocket 2230 NVMe SSD review in which she specifically tests it as a Steam Deck upgrade.
The price was one of the detractors from being able to recommend the 1TB version of the Rocket, which the sale neatly solves, but there's battery life effects to consider too. "Where the 1TB is concerned I saw much higher power draw, though as far as file transfer and load times were concerned it's pretty much on par with the 512GB, if a little more inconsistent," Katie says of the 1TB drive. "Some load times that were 40-odd seconds on the Deck's original SSD were more than halved, whereas some games took even longer to load. It's a little temperamental, for sure."
With those pros and cons in mind, you can grab a nice speed boost with the smaller Rocket or take the leap into bigtime handheld storage space.
The Steam Deck itself is also on sale right now, so you could pick up the smallest one at a discount, replace its SSD with a 512GB Sabrent, and wind up paying less than even the sale price of the 512GB Steam Deck.