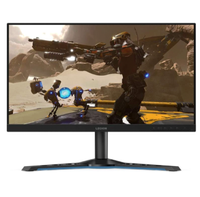 (opens in new tab)
Lenovo Legion Y25 | 24.5-inch | 240Hz | 1080p | IPS | $339.99 $199.99 at Best Buy (save $140) (opens in new tab)
For the discerning competitive gamer on a budget, this Lenovo IPS will deliver all the crisp color reproduction of the classic panel tech but with the modern twist of a 240Hz refresh rate. At under $200, that makes this a reasonable price for such a high-refresh FHD screen.
Who says you need to spend a lot of money on a speedy gaming monitor? Best Buy has a great deal on a 24.5-inch 1080p 240Hz gaming monitor from Lenovo for only $200 (opens in new tab).
The Lenovo Legion Y25-25 launched in 2021 for $350; it's recently dropped to $300 in recent weeks though. It hasn't been this cheap since Black Friday. So, if you're not ready to drop over $1,000 on a 240Hz 1440p OLED screen (opens in new tab) just yet, you can still get the most out of your RTX GPU 30-series GPU with this budget screen,
This Lenovo IPS is designed with competitive gamers in mind. It's got a 240Hz refresh rate and a 1ms response time. This means you'll be able to enjoy some pretty smooth gameplay from all your favorite shooters, like Valorant or Call of Duty: Warzone.
While speed is everything with this monitor, you still get fairly decent picture quality with solid color reproduction (it covers 99% of the sRGB color space), which can't be said for most competitive gaming monitors.
$300 was already a steal for this high refresh rate display; at $200, it's more than competitive, especially if you're putting together a nice budget PC build or looking to pair this with one of the best gaming laptops (opens in new tab).
Oh, and Best Buy is also throwing in three months of YouTube Premium for free when you buy the Legion Y25-25, in case you want to avoid ads while looking at videos on the PC Gamer YouTube channel (opens in new tab).
Don't expect the monitor to be loaded with features at this price. It's as barebones as you can get for a monitor. There are no speakers, its HDR support isn't great, and its legs seem like they'd take up a lot of space on your desk for a sub-25-inch screen—but it does have a VESA mount. That said, this is probably the best-performing 240Hz gaming monitor you can get for $200.