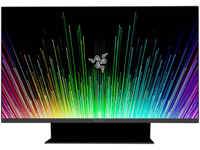 Razer Raptor 27 | 27-inch 1440p | 165Hz | 1ms MPRT | $799.99 $299.99 at Newegg (save $500)
There are cheaper 1440p high refresh gaming panels, to be sure. But none come close to the beautiful engineering and styling of the Razer Raptor 27, it's truly a sight to behold. It's an older model, but with an IPS panel, 165Hz refresh and HDR 400 certification, it's a decent all round performer. Though that 'before' price is absolute nonsense in 2023.
Price check: Amazon $399
It's an older model, but it checks out. When Razer released the Raptor 27-inch a couple of years back, it looked painfully pricey at $800 for a 165Hz 27-inch 1440p panel. But now you can snag it on Newegg for just $299. Suddenly, a slab of slick Razer-engineered luxury on your desktop just got a whole lot more attainable.
There are, of course, now faster 1440p monitors running at 240Hz and beyond. There are high-refresh 1440p IPS panels available for sub-$200, too, which we'll come to.
But this Razer is a bit special when it comes to design and engineering. And 165Hz is surely quick enough and slick enough for most gamers. The rest of the Razer Raptor 27's spec are decent, too.
You get HDR400 certification, 480 nits peak HDR brightness, IPS panel tech and multiple inputs including HDMI, DisplayPort and USB-C. The latter does support power delivery, but sadly only up to 15W.
The only snag is that, as an older model, the IPS panel's response time is a tiny bit off the pace of the latest monitors. The headline performance is rated at 1ms. But that's via the MPRT metric with backlight strobing. The more conventional and arguably more representative GtG figure comes in at 4ms.
So, if you want that absolute fastest available technology, this monitor won't be for you. But then, really fast 1440p panels cost considerably more.
And what few if any of them at any price will give you is the truly special engineering this Razer delivers, with stand, chassis and cable management design quite unlike any other monitor.
Factor in some neatly executed RGB lighting and you have an overall feel-good factor that blows way past the $300 sale price. If that's not cheap enough for you, it's actually now possible to get a 27-inch 1440p high refresh IPS monitor for under $200.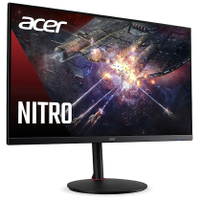 Acer Nitro XV272U | 27-inch | 170Hz OC | 1440p | IPS | $196.60 at Amazon
Coming with Freesync Premium, this monitor will see you through whatever GPU you have. This version can be overclocked to give you up to a 170Hz refresh, and it's also an IPS. Not too shabby for that price.
Price check: Newegg $263.99
Yup, Acer's Nitro XV272U is going for just $197 on Amazon right now. Good for 170Hz and 1ms response, it's a remarkably high spec gaming monitor for the money. It's a bit bare bones when it comes to design and features. But at this price point, you have to be realistic and focus on the core functionality. What you're getting is a true high refresh, high resolution gaming experience at a very reasonable price point.