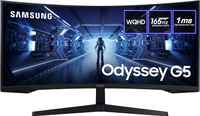 (opens in new tab)
Samsung Odyssey G5 | 34-inch VA | 3440 x 1440 | 250 nits |1ms MPRT | $549.99 $399.99 at Best Buy (save $150) (opens in new tab)
34-inch ultrawide 1440p gaming remains one of our firm favourites. It's a great compromise between lots of detail and decent frame rates. This Samsung panel gives you all that with 3,440 by 1,440 pixels, 165Hz refresh and 1ms response. It's not the brightest at 250 nits. But if you can live with that, it's an awful lot of monitor for the money.
In this age of everything 4K, all at once, this 34-inch ultrawide 1440p gaming actually remains one of our firm favourites. Samsung's Odyssey G5 34-inch ultrawide gaming monitor gives you all that and just got a handsome price cut. It's yours for just $399.99 from Best Buy. (opens in new tab)
It nails several of our gaming panel sweetspots. That's 3440 x 1440 pixel resolution for an ideal balance between image detail and frame rate, plus 165Hz refresh, 1ms response, and a 1000R curve for added immersion.
What's the catch? Most obviously, Samsung only claims 250 nits peak brightness, which is a bit puny. Yes, the panel does support HDR10 signal processing. But with that kind of brightness, this doesn't come close to a true HDR display.
It's also based on VA panel tech rather than IPS. Normally, VA bodes poorly for pixel response. However, Samsung is the master of VA, it makes the actual panels itself rather than buying them in. And it's the one company that has managed to make VA tech competitive with IPS for pixel response.
As for connectivity, you've got DisplayPort 1.4 and HDMI, though the latter is only HDMI 2.0 spec, so it's unclear if you can do the full 165Hz refresh over HDMI. That may only be possible over the DisplayPort interface.
Of course, at this price point it's probably too much to expect USB Type-C with power delivery. Sure enough, it's not included. And arguably, it's not critical from a gaming perspective.
It's worth noting that there are a zillion and one Samsung Odyssey G5 monitor models, some completely different in size and resolution from this 34-inch model. So, take care to choose the right panel if you are sourcing other than from the link provided.
All told, it's a lot of monitor for the money and if you are okay with the limited brightness, this could be a great buy.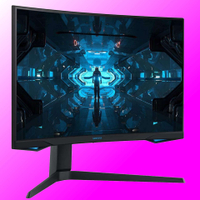 (opens in new tab)