Sharpen your menu organizing skills, because Resident Evil is back with Resident Evil Village. Since this is a main series sequel, Resident Evil 8 (the number is baked into Village as Roman Numerals, get it?), we're back in first-person, and expecting yet another horror adventure full of twists, turns, and terrifying monsters.
Ethan Winters is back and having a bad time, as you can imagine. But things look even worse than we've come to expect from Resident Evil. Village features a ton of firsts for the series, including werewolf-esque creatures, ancient vampiric countesses, and some magic dude that looks straight outta Bloodborne.
It's going to be a weird one. Here's everything we know about Ethan Winters' not so relaxing trip to Romania.
What's the Resident Evil Village Release Date?
Resident Evil Village launches on all platforms on May 7, 2021. You can find it over on Steam for PC.
If you want the specifics, here's when Resident Evil Village unlocks in your timezone.
Check out our Resident Evil Village review
Check out our Resident Evil Review to hear why Andy Kelly calls it the scariest RE yet in his 85% review.
"Village can occasionally feel like half a dozen different horror games jammed together," Andy says. "But the strength and variety of its ideas, the quality of the art direction, and its darkly evocative atmosphere more than make up for it. It's a bold and experimental horror game, but also one that leans into the series' past glories—particularly Resident Evil 4."
The Resident Evil Village limited time demo runs in May
The newest demo for Resident Evil: Village is a limited time and time-limited demo available until May 9. It was originally only scheduled to be available for 24 hours but Capcom extended the window. You can download and try it until May 9 at 5pm PDT. You'll be able to log 60 minutes of play time exploring the village and Castle Dimitrescu. Both seem like pretty big places, so you'll likely only get a small look at either one.
Unless of course you were one of those who took advantage of an exploit allowing players on PC to reset the timer.
Back in January we also tried tried the Maiden demo that was available to PS5 players and and spent about 20 minutes escaping from Dimitrescu Castle. It was set in an earlier time period than the game itself, laying out notes and clues about what's going on there. "Without spoiling the demo too much, you'll meet a couple of the inhabitants of the castle, and, yes, Lady Dimitrescu is just as charming, tall, and terrifying as we've been led to believe," Emma said.
Here are the Resident Evil Village trailers
Turn off your lights, get comfortable, and check out the Resident Evil Village announcement trailer. It's a stressful, action-packed three minute teaser that features a bedtime story, an old man with a shotgun, and... a gritty Chris Redfield???
A story trailer shown off during September 2020's PS5 showcase is a creepy setup to the game's story partly through the lens of an animated storybook. The village that envelops RE8 seems like an appropriately demented destination with deadly forest.
January 2021 brought around yet another Resident Evil Village trailer that showed off those very large vampire ladies who live in the castle above the village. You can also catch the gameplay reveal about 34 minutes in to the showcase from January.
A stranger trailer came in the form of a Japanese puppet show featuring singing, Muppety versions of the four main villains. You know, for kids.
Mercenary mode is back
Resident Evil's arcade action mode is making a comeback in Village. "It's back, with a few Resident Evil Village twists," said director Morimasa Sato.
As with past versions of Mercenaries, it looks fast-paced. You have a time limit to kill a certain number of enemies, but combo-ing kills will grant you both bonus point and bonus time. The big difference this time is that, like the rest of Village, you'll be playing in first-person. Another new feature is Duke's Emporium which you can access between zones to buy supplies and upgrade weapons.
Part of what made Mercenaries so popular in past RE games was its co-op multiplayer. We don't know yet if that will be returning in Village too.
What will Resident Evil 8's gameplay be like?
It's a first-person survival horror game that seems like it will play similarly to Resident Evil 7: Biohazard, with more of a focus on action elements. Ethan Winters is one of the least combat-trained protagonists of the series, so you'll likely have to be clever and careful to get out of harm's way in the village. In Capcom's gameplay reveal, they let on that blocking will play an important part in avoiding danger, not just pre-emptively shooting things.
They also gave a look at a crafting system for creating first aid items and ammunition. The grid-based inventory of Resident Evil 4 is making a return and so is the merchant, known as The Duke, who you can buy and sell weapons from.
In a gameplay video from April, we got to see quite a bit more combat as Ethan navigates a flooded cellar full of enemies with his pistol, shotgun, and a knife.
In our Resident Evil Village review, Andy Kelly says that Village is lighter on puzzles than past RE games. "It does make for a pacier game, with fewer interruptions to the flow of exploration and combat," he says. "But I like those interruptions, and I feel like Village could have benefited from being a little more cerebrally taxing."
Ethan gains upgrades by eating
During his time in the village, Ethan can stop in at Duke's Kitchen for a bite. Killing animals like pigs, goats, and chickens will give you ingredients for Duke to cook up into meals that give permanent buffs to Ethan's abilities.
For example, if you gather the right ingredients for the Bird and Beast Pilaf, and then eat it, you'll get a permanent reduction in damage when guarding. Other upgrades are things like reducing the sway on a sniper rifle or increasing the damage of a pistol. How Ethan gets all that from one good meal is a totally different question. Better not think about it too hard.
Who are the enemies?
Chris Redfield is back but doesn't look like he's trying to be your friend in this game. It's still vague on where his morality and objectives are, and how much of an antagonist he will be.
As for other enemies, it looks like the village has a large population of half-wolf people. These creatures look quick, and could be part of how the game leans more into action. One of them busts through a ceiling and grabs an old dude from the lower floor with one swift arm movement. These guys are gonna be a doozy. There are a lot of peculiar and new enemies in this game, and that has me curious about what kind of freaky bio-experiments are going on here.
A band of Victorian vampire women are seen draining Winters' blood briefly during the trailer. They can seemingly control a swarm of bugs too. We now know that the sunglasses and hat guy up there is an engineer called Heisenberg. Based on the cutscenes and trailers we've seen so far, you'll be handling Heisenberg before you wind up in Castle Dimitrescu with vampire mom Alcina and her girls.
Heisenberg and Lady Dimitrescu are two of the four lords (the other two are Salvatore Moreau and the puppeteer Donna Beneviento) that serve mysterious antagonist Mother Miranda. We don't know much about her, but she seems like she's likely the big bad of this adventure.
How tall is Lady Dimitrescu?
Everyone's in love with Lady Dimitrescu. She's a single mom who knows how to dress, is like eight foot something tall, and has extendable claw nails. How could you not? Seriously, look at all the fanart.
Correction: Capcom has issued a statement to specify that Lady Dimitrescu is 2.9 meters (about 9'6"). We apologize for initially underestimating her. She is very, very tall and everyone seems very, very into it. We did some science to understand just how tall Lady D is, so check the video above to feel ever so small.
So what's up with Chris Redfield?
There's a lot to sift through with this one; it is rife with fan theory potential. Ominous text at the start of the reveal trailer said "His story comes to a close." It's not confirmed who "He" is, or how his story is going to close. The trailer could be referring to Chris, who shows up at the end looking pretty unhappy. Or it could reference Ethan Winters, the protagonist of Resident Evil 7, who's returning as the main character in Resident Evil 8. The teaser left a lot of questions about what kind of story Capcom is going to tell, and how the previous game's protagonists will play into it.
There's also a developer message video hosted by producers Tsuyoshi Kanda and Peter Fabiano that gives more insight into everything shown in the announcement trailer.
What's the setting for Resident Evil Village?
It may come as a surprise, but Resident Evil Village will in fact take place in a village. It's a gothic, snowy place with beasts, betrayal, and people just trying to survive. At the top of the village is a castle, which brings back memories of the Spencer Mansion from the first Resident Evil. Ethan will be heading up from the village to the castle to rescue his daughter.
It all looks extremely clean running on the same RE Engine that was used to produce the Resident Evil 2 and 3, Resident Evil 7: Biohazard, and Devil May Cry 5.
Check out Resident Evil Village's map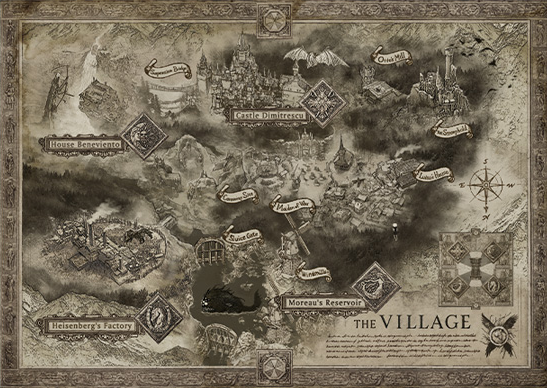 This image included in the Resident Evil Village special edition lets on lots of the locations we'll be visiting in the game. It's a pretty high-level look, not a map of distinct areas, but it does include some interesting names.
Castle Dimitrescu, whose residents we've heard so much about, is up top overlooking the village. There's also some kind of stronghold, a reservoir, and a place named House Beneviento. Down in the bottom corner is Heisenberg's Factory, which we've heard Lady Dimitrescu refer to in trailers as someplace Ethan Winters has escaped before arriving at her castle.
How is Resident Evil 8 connected to previous Resident Evil games?
It takes place a couple years after Resident Evil 7: Biohazard, focusing on the stories of Ethan and Mia Winters after they busted out of that plantation, ran away from the twisted Baker family, and finally settled down. It's not entirely clear why or how, but Chris Redfield, a playable character from the first Resident Evil who has since become a recurring part of the series, has decided to take on an antagonistic role and uproot them from their happy life. It's seemingly a pretty huge character change.
Redfield is beefier and more brooding than in the past, and in the reveal trailer he stands menacingly above Winters and before shooting a woman multiple times on the floor. We have no idea why Redfield has no chill in Resident Evil Village—it seems like whatever's going on, it'll be both messy and intriguing.
A symbol of what looks like a fetus/face mashup with twigs and feathers was sprinkled through the trailers, and there's already a lot of fan speculation as to its meaning. Capcom wants people to "pay extra close attention to this one," because it is likely an important part of the game, and could possibly have a connection to the Umbrella Corporation (whose logo was also flashed in the trailer, surrounded by mysterious crests).
Will Resident Evil Village support ray-tracing?
The good news: yes, Resident Evil Village will support ray-tracing. That castle is going to look so nice with natural lighting. The kinda bad news: it's only been confirmed for AMD cards so far. That doesn't mean Resident Evil Village won't support Nvidia GPU-driven ray-tracing, but when it comes to these branded partnerships, you never know what's going to remain exclusive or not. It's a bit worrisome, if only because we're not sure if FidelityFX will do the heavy lifting Nvidia's DLSS does and deliver decent framerates and quality alongside ray-tracing, which is a huge resource hog otherwise.
Either way, you can check out what Resident Evil Village looks like with ray-tracing effects in the video below.
Here are the Resident Evil Village system specs
You can also get our tips for the best Resident Evil Village settings and performance details.
Minimum
OS: Windows 10 (64 bit)
Processor: Intel Core i5-7500 | AMD Ryzen 3 1200
Memory: 8 GB RAM
Graphics: NVIDIA GeForce GTX 1050 Ti with 4GB VRAM | AMD Radeon RX 560 with 4GB VRAM
DirectX: Version 12
Recommended
OS: Windows 10 (64 bit)
Processor: Intel Core i7 8700 | AMD Ryzen 5 3600
Memory: 16 GB RAM
Graphics: NVIDIA GeForce GTX 1070 | AMD Radeon RX 5700
DirectX: Version 12
Village will be a very violent game
Another caveat here: We only know it'll be violent because of what's getting cut from the Japanese version. Confirmed by Capcom Japan, in keeping with the standards set by national ratings board CERO, Resident Evil Village will have less blood and no decapitations in the Japanese version. Which implies there will be more blood and heads rolling elsewhere.
If you're Japan-based and long to see whatever is going on inside a neck, hope isn't lost. Workarounds are pretty easy to find for this kind of thing, at least for PC games.
Village will (eventually) include online game RE: Verse
RE: Verse doesn't seem to be directly related to Resident Evil Village aside from coming free with the game. It's being pitched as a treat for Resident Evil's 25th anniversary and will feature "beloved Resident Evil characters as they clash in six-person deathmatches," says Capcom, with a minimum of four players per match. As a twist, when players die in a match they respawn as a bioweapon to take revenge on their enemies.
RE: Verse was originally expected to launch with Village on May 7th but has now been pushed back to "summer 2021".