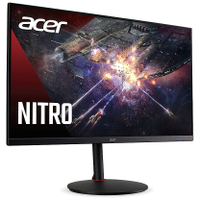 Acer Nitro XV271Z | 27-inch | 1080p | 280Hz | IPS | $369.99 $199.99 at Newegg (save $170)
Packed with AMD Freesync tech, this is one speedy monitor in terms of its 280Hz refresh rate and 0.5ms response time. That should see you matching your finest moments in competitive games.
If you have a need for speed, Newegg is offering a 27-inch 1080p Acer gaming monitor with a refresh rate of 280Hz for just $200 until the end of the day. This deal slashes $170 off its usual $370 price tag for a no-frills 1080p gaming monitor.
It's the best cheap gaming monitor deal you'll see this week, assuming you are okay with missing out on some premium features in favor of a fast, bright 400-nit panel for competitive gaming.
The Acer Nitro XV271Z boasts a blazing-fast 280Hz refresh rate (overclocked) and a 0.5ms response time (also overclocked) on an IPS panel, making it ideal for competitive games like Valorant or CS:GO.
At $200, this monitor offers great value, especially if you're looking to pair it is a great price for this sort of monitor, especially if you want to pair it with one of the best gaming laptops or assemble an AMD Radeon RX-powered budget gaming PC.
While the price is appealing, the Nitro monitor has a rather plain appearance with little to no pizazz, except for the red accent on the base of the desktop stand. However, if you prioritize smooth and speedy gameplay, the design may not be a deal-breaker for competitive gamers. Additionally, it comes with a VESA mount option if you prefer to clear some space on your desk.
Don't expect the monitor to be loaded with features at this price. It's as barebones as you can get for a monitor. It lacks USB ports, has an underwhelming speaker, and doesn't offer impressive HDR support. Nevertheless, this is likely your best option if you seek top-notch performance for a 280Hz gaming monitor at $200.