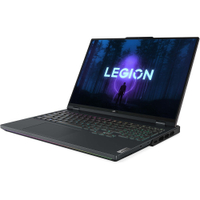 Lenovo Legion Pro 7i | Nvidia RTX 4080 | Intel Core i9 13900HX | 16-inch | 1600p | 240Hz | 32GB DDR5-5600 | 1TB NVMe SSD | $2,749.99 $2,149 at B&H Photo (save $600.99)
The Lenovo Legion Pro 7i is our current favorite gaming laptop (see our review). Even when it's at its full RRP it offers a lot of value compared to most of its competitors, giving you an awesome spec and loads of performance. When you knock $600 off its price, this Lenovo becomes something special.
Price check: Lenovo $2,564.99
The latest and most powerful gaming laptops pack a lot of punch into their slim chassis', but value for money to go along with that isn't easy to find. So, when B&H photo offers a $600 discount on a powerful RTX 4080-based laptop, it's definitely worth shouting about.
The Lenovo Legion Pro 7i isn't just our favorite RTX 4080 gaming laptop, it's our current favorite overall, proudly sitting atop the list of best gaming laptops. It's got a spec that puts many desktops to shame, and its RTX 4080 GPU is a highlight. It boasts excellent power efficiency, DLSS 3 and Frame Generation support. It's joined by a Core i9 13900HX CPU that offers 24-core and 32-threads. Add to that 32GB of DDR5 memory and a 1TB NVMe SSD and it's clear this is one powerful laptop.
These are specs you'll find in machines costing a whole lot more. Laptops like the Razer Blade 16 do include a better screen, but the 16-inch 2560 x 1600 IPS screen of the Lenovo Legion Pro 7i is not bad at all, and with a 240Hz refresh rate, the RTX 4080 inside will provide tear-free gameplay in any title you care to name.
If you're thinking of taking the plunge, don't do it before checking out our review. You might be surprised to discover that the gaming performance of the included RTX 4080 GPU can match, and sometimes beat flagship machines with an RTX 4090. Despite the supreme power efficiency of Ada Lovelace generation GPUs, keeping a 120W RTX 4090 cool inside a laptop chassis is no easy task. And they can clock down, leaving a lot of performance untapped. It all depends on the specific model and its cooling capacity of course.
Even when it's priced at its regular RRP, the Legion Pro 7i is a terrific high end, high performance laptop. But when you knock $600 off, it becomes a genuine bargain, something you can't say about all too many $2,000+ laptops.
However, $2,149 is still a lot of money, and not everyone is willing to cough up that much for a laptop, no matter how good it is. In that case, our best gaming laptops page has some more worldly bargains for you to peruse.