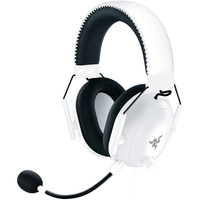 Razer BlackShark V2 Pro Wireless | 50mm Tri-Force | 12 - 28,000Hz | Closed-back | $179.99 $99.99 at Amazon (save $80)
I'm writing this copy listening to War on Drugs through these exact cans, and they are absolutely my go-to gaming headset. And I have access to a lot of gaming headsets... The multi-chamber driver design gives them supreme clarity and almost an open back soundstage. And for under $100, they're an outstanding wireless headset in black or white.

Price check: Best Buy $99.99
I used to be perpetually unsatisfied with the speakers hugging my ears. Too tight, too grainy, not loud enough, annoying cord—I'd pretty much accepted that there'd always be something to hate about the headset I choose to spend my life with. Then I fell in love with the Razer BlackShark V2 Pro Wireless headset. It's the wireless cousin of the reigning champ in our list of the best gaming headsets, and it's currently at its lowest price for Prime Day at just $99.
What's the big deal? For me, it's the BlackShark's exceptional sound quality and comfort. I'm getting the best clarity with games and music that I've ever had on a USB headset (and a wireless one at that). The simulated 7.1 audio is underwhelming (though I've never liked how fake surround sound sounds), but the Razer Synapse software lets you do your own audio mixing and set up profiles.
The thick cushioned fabric on the band and ears hug my big head without ever squeezing it, and the material breaths so much better than the pleather stuff that lines so many reasonably-priced earphones. If you sweat a lot in the summer months, the BlackShark won't fall apart at the seams (speaking from two years experience wearing them).
The battery is pretty good, too. Using the wifi wireless mode with the USB 2.0 dongle, I average around 2 to 2.5 days of heavy use before it beeps to tell me it's time for a charge. When you do need to charge it, your only option is a micro-USB cable, which might be a pain if you've fully transitioned to a USB-C lifestyle, but the included cable is durable and lengthy.
My only sticking point with the BlackShark is the on-board microphone: it's good, but only if you're aware of what it's meant for. It's a highly directional microphone that needs to be fairly close to your mouth, which makes it pretty good at avoiding background noise. The tradeoff is your voice sounds a bit like a helicopter pilot—flat and processed, but clear.
A relatively minor gripe when you also consider this great discount. I can't think of a better headset hitting sub-$100 at the moment, including the newer 2023 update of the same BlackShark. Our own Jacob Ridley knocked those down a peg for lacking meaningful upgrades when this model still exists, so if you're considering these cans, heed his advice and get this older (but still great) version.