Tradition holds once again and the yearly Minecraft mob vote returns so that we can have an all out social media brawl over which creature gets added to Minecraft next. Despite this year's twist—a contigent of players intending to boycott the mob vote—Mojang is likely going ahead as planned.
Three of our mob choices for this year have now been revealed: the crab, penguin, and armadillo, and the voting time frame. We'll go over all the details below on when and where to cast your choice for the year.
As in past years, the mob vote will culminate at the Minecraft Live show on October 15 where Mojang will announce the winning critter. Typically, Mojang also announces information about the next major game update during the show. We likely won't find out all the details, or even the name, about update 1.21 during the show, but based on history we should be able to expect it mid-2024 and that our mob choice will be added during that update.
When is the mob vote 2023?
The Minecraft mob vote begins at 1 pm EDT on Friday, October 13 and ends at 1:15 pm EDT on Sunday, October 15. That's just over 48 hours, which is double the voting time we had last year—and way longer than the live show votes of years prior. Voting closes at the beginning of the Minecraft Live show, which will go live at 1 pm EDT on Sunday, October 15.
Here's when the mob vote is open across time zones:
10 am October 13 - 10:15 am October 15 PDT (Los Angeles)
1 pm October 13 - 1:15 pm October 15 EDT (New York)
6 pm October 13 - 6:15 pm October 15 BST (London)
7 pm October 13 - 7:15 pm October 15 CEST (Berlin)
3 am October 14 - 3:15 am October 16 AEST (Sydney)
Like last year, there are several different places you can vote. You can go to Minecraft.net and sign in to vote. You can open up the Minecraft launcher and vote before turning on the game. You can also vote in the game itself by joining a specially designed server that will be available in the menu.
Which mobs are in the mob vote this year?
As has been the case for several years, Mojang has introduced three new concepts for mobs that may get added to Minecraft. This year they all happen to be real-world animals, unlike last year which was a competition between three fictional creatures. All three mobs have just a little detail about where they spawn and what they might be used for, though we can expect that the winner will wind up having additional features after Mojang continues developing it.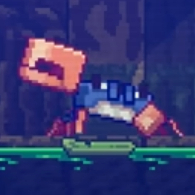 Crab
These little crustaceans will actually live in the Mangrove Swamp biome, not the ocean. Harvesting a crab claw and equipping it will let you place blocks further away from yourself. Imagine doing away with your scaffolding to finish that intricate log cabin roof project.
(Watch the crab video here)

Armadillo
Another smallish mob option is the Armadillo who will live in warm biomes like the Savannah. They will drop Scute, their plate-like skin which you can craft into armor for your wolves. That's a handy crafting recipe for sure.
(Watch the armadillo video here)

Penguin
Last up is the penguin which you'll find in the Stony Shore biomes. Mojang says they're clumsy on land but great swimmers who can help your boat travel faster. That's a small benefit, but they're the only option that Mojang specifically mentions their being babies of, so it's likely that you'll be able to breed penguins as pals.
(Watch the penguin video here)