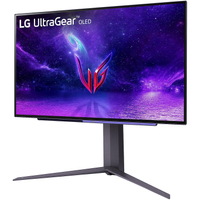 LG Ultragear | 27-inch | 240Hz | 2560 x 1440 | W-OLED | $999.99 $849.99 at Amazon (save $150)
LG's latest OLED gaming monitor is already seeing a relatively tasty discount. Though it is still a lot of money to drop on a 1440p panel when you can but a 170Hz 1440p LCD screen for just $180. But this is OLED tech, from the OLED kings at LG. We prefer the Samsung QD-OLED, to be fair, but if you're after a standard 16:9 monitor rather than an ultrawide, the LG Ultragear is a great option.
OLED technology is pretty awesome. But it's also pretty pricey. So, it's good to see some discounts for this year's Amazon Prime day. We've already reported on Dell's 34-incher beast being cut down to $899. Now here's LG's 27-inch Ultragear slimmed down to $849 at Amazon.
It's a classic 1440p display running at 240Hz. Factor in OLED's ridiculously quick response times and you have a recipe for some stupidly speedy gaming. The HDR visuals are pretty special, too, thanks to OLED's perfect per pixel lighting.
If there is a catch, it's that LG's WOLED tech slightly struggles when it comes to full screen brightness. Much of the time in-game, you'd never notice. But it can become apparent in brighter game scenes and on the Windows desktop, too.
To be absolutely honest, we'd probably go with the Alienware 34 incher. For starters we generally prefer 34-inch ultrawide to 27-inch 16:9 and the Alienware's QD-OLED panel tech likewise works a little better on the PC than LG WOLED, primarily thanks to better full screen brightness.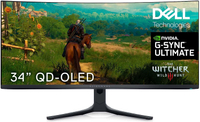 Alienware 34 AW3423DWF | 34-inch | 165Hz | 3440 x 1440 | QD-OLED | $1,099.99 $899.99 at Dell (save $200)
Alienware's fancy QD-OLED panel just got that little bit cheaper (check out our review). It's still not exactly entry-level at $899. But think of it as a long term investment that will make every single gaming session pop. Once you've experienced per-pixel OLED-style lighting, you won't want to go back to LCD tech.
And in the context of this kind of display, the extra $50 is pretty inconsequential. All that said, plenty of people prefer 16:9 to 21:9 and if you fall into that category, well, you're going to prefer this LG panel.
You might also consider Corsair's competing Xeneon 27QHD240, which is also on sale at $900. It's a little more expensive than the LG but uses exactly the same WOLED panel and performs very similarly.
The main thing the Corsair has going for it is nicer styling and build quality. Physically, it's a very nice thing indeed. It also has USB-C connectivity, if that's a priority for you.
Anyway, it's great to see that most of the best OLED monitors are being offered for sale this year by Amazon. They're still not exactly cheap, but there are some very decent savings to be had.