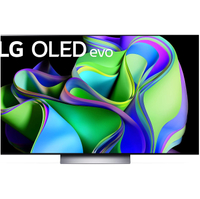 LG C3 OLED | 65-inch | 4K | Smart TV | 120Hz | $2496.99 $1596.99 at B&H (save $873)
Deja-vu? Nope, just a recommendation for the 65-inch model of the C3, for those of you looking for a huge TV capable of delivering all the 120Hz OLED gaming goods. It's a true behemoth this thing, but sometimes you just want to be in the pixels, don't you?
Price check: $1599.99 at Best Buy
For those of you looking for a huge TV that's got the chops when it comes to gaming, the LG C3 65-inch 4K HDR Smart OLED EVO is currently available at B&H Photo for under $1600. That makes it a truly enormous amount of OLED TV for the money, and a worthy recommendation for any gamer looking for a gigantic 4K screen.
LG has developed a reputation over the past few years for creating fantastic 4K OLED TVs with great gaming potential. In fact we liked the previous C2 so much that it still sits in our list of the best gaming TVs for 2023, but the newer C3 model was difficult to recommend due to its substantial MSRP. Now we're starting to see discounts arrive on the C3, and at this price the 65-inch model is a huge amount of OLED panel for the money.
Featuring LG's image-enhancing A9 processor complete with light-boosting algorithm, AI upscaling, OLED dynamic tone mapping and something LG call an "HDR Expression Enhancer", the C3 really does go all out to make the most of its 4K OLED pixels. HDR10 and Dolby Vision are supported, and it's no slouch in the motion department either with a 120Hz refresh rate, a 0.1 ms response time, Nvidia G-Sync, FreeSync Premium and VRR support.
Given that this is a TV first and a gaming device second it's no surprise that the C3 comes with a whole host of smart TV features, including access to Nvidia's GeForce Now library for those of you who don't feel like running cables from your main system. If you don't mind a bit of cable routing, however, the C3 comes fitted with four HDMI 2.1 ports around the back of its slim-bezel frame. It's a great looking piece of design in general, and at this size the C3 is certain to leave a lasting impression to anyone who sits in front of its glorious OLED display.
We don't often recommend TVs of this size, simply because many PC gamers are looking for monitor replacements and it would be a stretch to think many of you would consider heaving this behemoth onto your desk. However, if you're looking for a massive amount of screen to set off your couch co-op setup, or are simply looking for something to take pride of place in your media room, we reckon this C3 deal might be exactly the sort of thing you need.