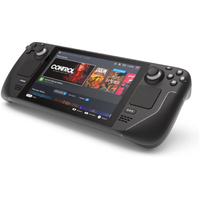 Valve Steam Deck | 64GB | $399 $359.10 at Steam (save $39.90)
The cheapest Steam Deck model available just got cheaper. That's a key discount, too, as you can spend just a little over $40 on a 256GB Steam Deck-compatible SSD and turn this machine into the more expensive middle-tier model for next to nothing.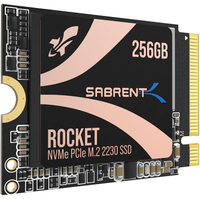 Sabrent Rocket 2230 NVMe SSD | 256GB | PCIe 4.0 | Steam Deck-compatible | $44.99 at Amazon
Spend your savings on this 256GB SSD from Sabrent, upgrade your Deck, and, voila, you'll have saved yourself a fair bit of cash. Happy handheld gaming.
The Steam Deck is on sale over at Valve for the next two weeks. It's not a paltry amount off, either. There's 10% off the cheapest model, 15% off the middle-tier model, and 20% off the top tier model.
The top model, the one with a full 512GB NVMe SSD, is down to less than the regular price of the 256GB model with that 20% discount. So, that's already a pretty convincing discount if you've been waiting to make a decision on whether to buy the handheld or not.
Though more alluring is the budget model, even with a slimmer 10% discount. One reason why is that, no matter what, the ROG Ally can't compete with the price tag on the 64GB Steam Deck—it's just a much cheaper device.
But, importantly, you don't have to put up with that small storage capacity. With this nearly $40 discount, you save almost the entire cost of a Steam Deck-compatible 256GB NVMe SSD, which you can fit yourself at home. Meaning you get the 256GB model for the basically the price of a 64GB model, only a small amount of tinkering required.
Or to put it another way, that's a $124.91 discount over the MSRP of the actual 256GB Steam Deck for the same spec, minus the exclusive Steam Community profile bundle. But I can live without that.
Our recommendation is to pick up one of Sabrent's Steam Deck drives. We've tried them, and they're a good fit for the handheld machine. Be sure to check out our Sabrent Rocket 2230 review.
You can find a full guide of how to replace your Steam Deck's SSD over on iFixit, which also sells spare parts if you really mess something up. It's not too scary to switch over, however.
There's a small chance we'll see some discount on one of Sabrent's Steam Deck-compatible SSDs with the coming Prime Day SSD sales, though I wouldn't bet on it. Though at under $110 the 1TB Steam Deck SSD is mighty tempting.
As someone that bought the 512GB model before larger capacity NVMe replacements were available, I do have some regrets. But hey, I least I got that exclusive virtual keyboard theme. Yes!