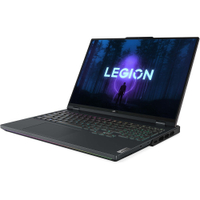 Lenovo Legion Pro 7i | Nvidia RTX 4080 | Intel Core i9 13900HX | 16-inch | 1600p | 240Hz | 32GB DDR5-5600 | 1TB NVMe SSD | $2,749 $2,099 at B&H Photo (save $650)
This is a discount on the best RTX 4080 laptop I've tested since they launched. It's a fantastic notebook, offering performance that can often match and sometimes beat an RTX 4090-based system (see our review). There's a high-performance CPU to back it up, a decent, bright 1600p screen, and a fair amount of storage.
Price check: Lenovo $2,564.99 | Amazon $2,399.99
This mighty Lenovo Legion RTX 4080 gaming laptop is no stranger to a deep discount. Cast your mind back to the last time Bezos pulled a Prime Day, back in July, and B&H Photo was selling our pick of the best gaming laptops for $550 less than its original price.
That price crept up in the last few months, but now, on the eve of Prime 2.0—or Amazon Big Deal Days if you will—this seriously powerful gaming laptop is even cheaper. You can bag the Lenovo Legion Pro 7i for just $2,099 at B&H Photo today, and that makes for a $650 discount.
And if you're sitting there thinking you'd rather hold out for a big discount on an RTX 4090 gaming laptop instead, let me stop you there. No one should be buying an RTX 4090 gaming laptop. Obviously that GPU—the same AD103 as the desktop RTX 4080—is the more powerful silicon, but it's also more power-hungry and needs more cooling to be able to reach its performance heights.
Too often we've seen RTX 4090 machines held back by their aesthetic, and the desire for thinner, lighting gaming laptops. That's meant that, in my own testing, this RTX 4080-powered Lenovo Legion has either matched or outperformed RTX 4090 gaming laptops in a number of pertinent benchmarks.
Alongside that excellent gaming performance, the Lenovo packs a serious specs list, too. The 24-core Intel Core i9 13900HX is a mighty powerful mobile processor and that 32GB of DDR5-5600 memory is more than welcome. The 1TB NVMe SSD is probably just about fine, but given the low current price of 2TB drives does feel a little meagre at this price.
Still, you're getting a lovely 16-inch 2560 x 1600 display, capable of outputting at 240Hz and I would have been in love with that screen had I not been absolutely spoiled by the mini-LED Nebula panel Asus jammed into its ROG Zephyrus M16.
It might seem a little odd to be so excited about this, but it's worth taking time to make a note of the Lenovo keyboard here. Lenovo seems to have made it the company's mission to get a numpad on any laptop keyboard it can, and I appreciate that. And it doesn't come at the expense of the rest of the layout, either. Honestly, I think Lenovo Legion machines come with the best laptop keyboards out there.
The company's on a tear at the moment with its excellent gaming laptops, and I really cannot recommend this one more highly. If you're in the market for a powerful machine today, and had been looking at Asus or Razer machines, then please spare a thought for this Legion Pro 7i. An equivalently specced Blade 16 would cost you $3,600 today, which is ludicrous by comparison.
The Lenovo Legion Pro 7i has got it all, and for a great price, too.