The best gaming projectors deliver a crisp, expansive and vibrant image, while keeping input lag to a minimum. A high refresh rate is always appreciated, too, so you can make the most of high frame rates.
Projector technology has come a long way, of recent, and the key technologies are getting much cheaper. As such, standard projector quality is up across the board. As such, the best gaming projectors can even keep up with some of the best gaming monitors today. While it may not be able to match the contrast levels of, say, an OLED TV, best gaming projector will still provide great picture quality.

Much more practical for moving around, projectors are surprisingly adaptable and portable too in most cases. Importantly, though, you'll need to decide before purchasing whether you need a long-throw, short-throw, or ultra-short-throw projector (more below). It's important and will depend on the space you can practically allocate to some great entertainment technology.
I've tested a wide range of projectors to see just how practical they are for gaming and cinema experiences and any other media you might want to have blown up on the wall. In addition to that, I tested the projectors against a 144hz gaming monitor to compare the latency. Below are the best ones out of the bunch for different use-cases.
Best gaming projectors
With one of the swiftest refresh rates on the list at 120Hz, the BenQ X1300I comes in at the top. That's thanks in no small part to its impressive 8ms response time, meaning you'll be able to get some competitive big screen gaming in without fear of compromising your rank. It may not be as fast as the BenQ TK700STi, but there's more to gaming than speed.
The X1300i is officially a 'console gaming' projector but what is that if not a PC gaming projector too? At its core is 4LED DLP projector technology. That means it has all the benefits of an LED device—a longer lifespan and cooler operation compared to traditional lamp models—while a greater number of LED sources helps to increase brightness over popular 3LED models.
A brightness of 3,000 lumens is a plenty respectable rating for a projector in its price range. Sadly, it's only a 1080p projector though. Technically it is listed with 4K 'resolution support', but don't be fooled, that really only nets you the ability to input at 4K and have it downscale to 1080p. For your trouble you will also end up doubling the input latency to 16.67ms, so not something I'd recommend.
The picture quality while gaming is immense, though. The colour reproduction is deep and rich, which I often find distractingly lacking on cheaper projectors, and the detail is preserved in the picture. As a result it doesn't feel like you're gaming through a Chiffon curtain with the X1300i, and feels much more an open window into a game world, even on the uneven and slightly off-white wall I was using it on.
I played Hunt: Showdown on the big screen and it was excellent. There's no major ghosting or blurring, even during high contrast frames—such as a barrel exploding in the dead of night—and the picture quality allows you to pick out details from a great distance.
The built in speakers are surprisingly punchy, and the 30,000 hour lamp life means it'll last a while longer than the speedier BenQ model… provided you don't block the exhausts. As long as you can mount it on the ceiling—where it's best situated—that shouldn't be an issue. Just make sure you do have the space for a long throw projector before you commit to buying.
It's backed by exceptional brightness, so the light of day shouldn't hamper your gaming experience. Though we did find it works best under the cover of darkness, as will any other projector on this list. Coming in with the kind of speeds you'd expect from a tidy gaming monitor, this beamer will see you right.
Read our full BenQ X1300I review.
The BenQ TK700STi gaming projector shows off some exemplary 8ms response times when playing in 1080p at 120Hz, and an exceptional 4ms at 240Hz. Even when you move up to 4K at 60Hz you're looking at 16ms response, which is enough for most non-competitive games, or when you just want to experience movies on the big screen.
240Hz is a spectacular refresh rate for a projector, too. The kind of rate you expect form a top tier gaming monitor, but you'll need some monstrous hardware to make the most of 240Hz at 4K.
This is not technically a native 4K projector, just to be clear. It uses Texas Instrument's XPR (expanded pixel resolution) pixel-switching tech to mimic UHD, but it does so with flair and still manages to look sharp as heck.
Being a short throw projector also means I didn't have to mess around when looking for a place to put it during testing. It works straight from your coffee table so no need to hang it overhead, or tuck it somewhere behind the sofa. Though if you can manage 6.5 foot (2m) distance, you'll be rewarded with just over 100 inches (2.5m) screen space.
Coupled with the 3,000 ANSI lumen brightness, the BenQ TK700STi should give up a great cinematic experience even in broad daylight, although the lamp life leaves something to be desired. It's rated at only 15,000 hours, even on the most eco-friendly setting, and boy does it throw out some heat from the front right corner.
I had a few issues with every day use, such changing volume in the YouTube app being different to how it's done in any other app, which meant I blew my ears off a couple of times. The keystone is a bit of a pain to get right, limited functionality compared to the Xgimi projectors you'll find on this guide.
Sadly, some external speakers are necessary to get a well rounded sound as the speakers are a little weak, but there's a lot of gaming power behind this little projector.
The Xgimi Elfin projector is one of the smallest projectors we've tested for this guide, and that makes it pretty darn portable. While it doesn't include a battery for untethered theatre experiences like the Xgimi Halo does, it's easy enough to slip into a bag and take to a friend's house for events that require an excessive image size.
As long as they have a large enough wall, the Elfin can show an image that's 120 inches (3 meters) across from just 10.5 foot (3.2 meters) away. Keep in mind this is only a 1080p image, however, so 120 inches might be a little overkill. Still, that makes it a heck of a lot cheaper than forking out for a 4K projector.
Besides, you don't need as powerful components in you PC, and it means you can run games at a higher framerate. And while we found it to be no slouch in gaming mode with a more than acceptable response time for non-competitive gaming, the 60Hz refresh does add a cap to how many frames per second you can appreciate.
Xgimi makes up for this not only with exceptional portability, but also its incredible ability to automatically focus and correct the keystone position, avoiding obstacles on the projected surface such as photo frames or light switches—it just makes the setup super speedy and straightforward.
It's a fantastic little machine with a super modern look, that also doubles as a Bluetooth speaker, and even has Chromecast built in for when you're on a YouTube binge with your friends after the party's wound down.
All that is backed with an exemplary 30,000 hours of lamp life, or 10 hours a day, every day, for about eight years. Though that'll be dependent on how you use it, of course, but it's a rugged little thing that doesn't take up too much space.
The wall across from me has been transformed into a screen that's larger than what could fit through my front door, by the virtue of a box smaller than a modern console. "Everything's a screen now" the echoes of thoughts whisper and pause. "Unless of course, you're a coward." That's what playing with the Xgimi Horizon Pro feels like even minutes out of the box.
The auto keystoning will work to give the best screen experience it can on any surface you give it, and watching it do its thing always feels like magic. I wanted to lay down on the couch so I pointed it at the roof, then wanted to take it to bed so I moved it there, plugged it in and away we went.
I can put it on a camera tripod or anything else I need. When my dogs walked past and knocked it, the auto focus ability kicked in straight away to give me back my smooth visuals nice and quick.
While it's a powered projector rather than a wireless like the Xgimi Halo Portable Projector, it still really encourages that sense of possibility. Anywhere I can get power to this thing I can use it to have a great visual experience with the full capabilities this 4K HDR10 resolution beamer offers.
The included speakers do the job but they're quite tinny and sharp to the ear compared to a theatre setup. To be fair, it's very good for the size of the machine and supports DD+ but the Xgimi Horizon Pro seems built like a monitor or TV with the idea that you're likely going to connect it up to your own speakers or headphones.
Those 2,200 lumens are no joke, and I've been able to play games and watch content in fairly brightly lit rooms with the windows open. When it's dark you get an even more vivid and colourful image to boot. The downside is the blacks aren't as deep, especially compared to what you'd find with a HDR screen. It turns out shining lights onto a wall just can't make it any darker.
Even with it in gaming mode, hardcore pros are going to notice that 35ms, but I was happily running around Overwatch 2 winning and losing about the same as normal.
If you were tossing up on a projector and you have the money to drop on this very not cheap one, it sure is a lot of fun. You can set it up within seconds, and have all your video streaming services ready to go. Have the biggest game nights on your wall with all your friends, and even easily take it around to their house.
Read our full Xgimi Horizon Pro review.
Screen queens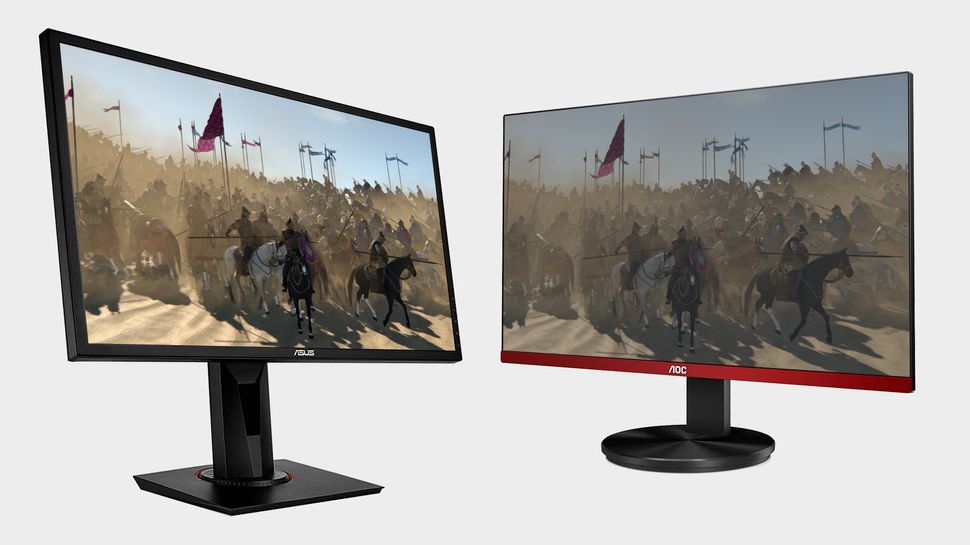 Best gaming monitor: pixel-perfect panels for your PC
Best high refresh rate monitor: screaming quick screens
Best 4K monitor for gaming: when only high-res will do
Best 4K TV for gaming: big-screen 4K PC gaming
For a little more money than the Xgimi Elfin, the Halo adds even more portability to the list of great features. This one comes with a solid battery that'll keep you going for a good three hours, at least in standard mode, and it can also be used as a portable Bluetooth speaker.
The Halo's got a good obelisk style to it, and the shape actually is the first we've seen that lends itself to ceiling projection. It does block the exhausts if you lay it down, but it's a fun option to have if you're laying in bed or wanting to project onto the roof of your blanket fort.
When it comes to gaming mode, the Xgimi Halo comes in with a higher latency than most on this list, but I didn't find it to be too much of an issue with RPG titles, and you have to remember response time isn't everything. As long as you have it in gaming mode it's just fine, but serious competitive gamers may find issue with it.
Still, the fact it's a supremely portable smart Android device that boots up quickly, and doesn't need to be yards from the wall in order to get a good size screen going is great. It's worth noting that the Halo should be projecting square-on if you want to utilise gaming mode though as it prevents keystone correction from working.
I also found I had a slight issue with the auto focus trying to refocus whenever I jogged the stand it was sitting on, which had me concerned there was something wrong with my eyes a few times. But it's easy enough to switch it to manual focus, via a physical toggle on the bottom of the controller, you can then use the volume keys to adjust. Though, that does mean you have to choose between manual focus, or the ability to change volume.
All in all it's my top pick because of how small and practical it is, but then I don't play competitive games, so the high latency doesn't bother me. It's still well within the realms being unnoticeable to most humans, however.
Read our full Xgimi Halo review.
Best gaming projectors FAQ
How do I choose a gaming projector?
If you're looking to do online competitive gaming, look for a gaming projector with a high refresh rate and low latency. That way the information you need can reach your eyes faster, and it wont feel like your character's moving through sludge when you try to react.
If competitive games aren't your thing, you can settle for a higher latency—it's generally only perceptible above 60ms for your average gamer. A higher refresh only becomes relevant if your hardware can pump out more than 60fps, otherwise a 60Hz projector is fine.
The gaming projectors on our list achieve 40ms or lower. Many gaming projectors are backed by impressive sound systems, a vibrant colour range, high resolution, and long lamp life—all of which should be considered carefully when choosing a gaming projector, depending on which features matter most to you.
You should also make sure you have space for your projector where it'll need to go. If you want it behind you, or overhead, a long throw projector will be best. If you're looking for one to pop on the coffee table, a short throw projector will work great. Of, if you want to put it up against a wall, you're going to want an ultra short throw projector.
Are projectors worth it for gaming?
Nowadays, yes. There are plenty of gaming projectors with speedy refresh rates, and low latency, even 4K projectors so you can really get up close and inspect the fine details. If you want to play your games on a larger screen size than you could ever dream of, a projector is a perfect solution. Of course, consider your space and what features matter to you before you dump your TV and replace it with a gaming projector.