If you're in the market for a new portable machine, we've got the cheapest gaming laptop deals of the week, right here. January is a tough month for money, but if you're looking for a new laptop for gaming, and for work, there are some great offers to be had via the likes of Amazon, NewEgg and B&H. If you saved your budget from last year, you can probably get a better spec of laptop in these January sales, bagging a gaming laptop deal on a far better machine than you could have bought before.
Best deal today
Razer Blade 15 | 1060 MaxQ GPU | 512GB SSD | i7-8750H CPU is $1870.49 at Amazon (save $329.50)
This is one of our favourite gaming laptops of recent years, and you'll be getting it for a great relative-bargain at this price. It's got a great design and has all the internal workings of a beast that will play all the recent games with ease and likely keep you safe for the foreseeable future.
These are the cheapest gaming laptop deals of this week. We've selected a number of price options to suit most budgets, ranging from $550 all the way up to $2000+ for the most expensive. Many of these models appear in our guide to the best gaming laptops, and they're all worth buying if you're looking for something reliable, reputable, and well built in terms of spec. We tend to favor the likes of MSI, Acer, and HP because they're often built with gaming in mind, but you'll find a range of manufacturers below offering all kinds of different specs.
If you're dropping more than $1000 on a cheap gaming laptop deal, expect to get a GTX 1060 GPU and an i7-8750H CPU as standard. We'd recommend looking for a laptop with at least a 512GB SSD, although you can get smaller SSD models cheaper, boosting the stats of the rest of the device for less cash. It's often a trade-off.
Gaming laptop deals
High-end laptops
MSI GS65 Stealth | 15.6" 144Hz | i7-8750 | GTX 1070 | $1599 at Amazon (save $200)
A powerhouse of a gaming laptop, but one with style and a lovely finish too. This is a great deal on our favorite laptop, and a perfect way to start 2019.View Deal
MSI GP63 | 15.6" 120Hz | i7-8750H | GTX 1070 | $1,299 (save $400)
This is an outstanding price for a GTX 1070-powered laptop, and it also has some nice features like a 120Hz screen. It's a bit bulkier than thin options like the Aero 15X, but for the money you won't find more power. It's an extra $80 off with a rebate card.View Deal
Omen by HP | 15" 144hz| i7-8750H | GTX 1070 | $1599 (save $200)
A quality overall spec at a modest discount, rendered in Omen's brushed metal finish. Not as flashy as the MSI options, but a great buy nonetheless.View Deal
Gigabyte Aero 15W | 15.6" 144Hz | i7-8750H | GTX 1070 | $1,999 (save $300)
The Aero 15W is light and thin, and features a quick 144Hz screen, 16GB RAM, and fantastic battery life. This one has the 1070 GPU too.View Deal
Mid-range laptops
MSI GL63 | 15.6" | i7-8750H | GTX 1060 | $1,019 (save $230)
This laptop normally goes for $1,249, but with a sale and $120 rebate, you can snag it for $929. That's a great price for the specs—Core i7-8750H, GeForce GTX 1060, 16GB RAM, and 128GB SSD + 1TB HDD.View Deal
Lenovo Y-7000 | 15.6" | i7-8750H | GTX 1060 | $1199 (save $400)
A decent saving on this powerful mid-range laptop, with a GTX 1060 graphics card and 16GB of RAM and a 512GB SSD included. It even has a 144Hz screen too.View Deal
Acer Aspire 7 | 17.3" 60Hz | i7-8750H | GTX 1060 6GB | $949.99 (save $250)
This laptop costs a bit more than most GTX 1060 gaming laptops, but it has a large 17.3-inch IPS display. The rest of the specs are good too, for sub-$1000.View Deal
Entry-level laptops
Asus ROG Strix GL503GE | 15.6" 120Hz | Core i5-8300H | GTX 1050 Ti | $849 (save $190)
This Asus gaming laptop has some features not usually found on budget notebooks, like an SSD and a 120Hz screen. View Deal
MSI GF63 | 15.6" | i3-8300H | GTX 1050 | $569 (save $230)
This is one of our favorite budget gaming laptop, now marked down even further. For only $569 (after rebate), you get GTX 1050 graphics and a 1TB HDD.View Deal
MSI GL63 | 15.6" 120Hz | Core i5-8300H | GTX 1050 | $549 ($340 off)
This is one of the lowest prices you'll ever see for a gaming laptop with a dedicated GPU. What's more, you get a $150 rebate card, so this works out at $549!View Deal
Our favorite gaming laptops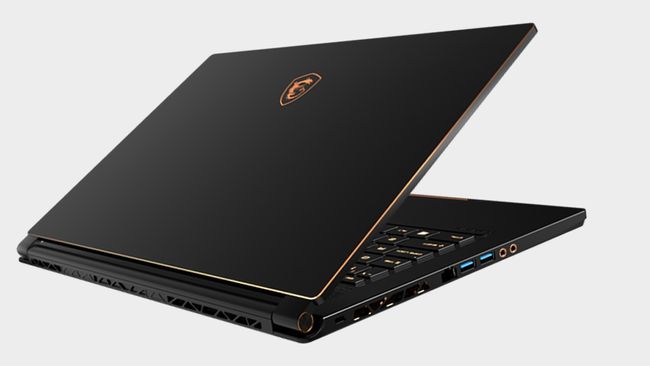 1. MSI GS65 Stealth Thin
Powerful and well designed - our favorite gaming laptop
CPU: Intel Core i7-8750H | GPU: Nvidia GeForce GTX 1070 Max-Q | RAM: 16GB DDR4-2400MHz | Screen: 15.6-inch FHD (1,920 x 1,080) wide-view 144Hz | Storage: 512GB M.2 SSD | Battery: 82 Whr | Dimensions: 9.75 x 14.08 x 0.69 inches | Weight: 4.14 lbs
Slim and beautiful
Battery lasts ages
Very powerful
Doesn't have G-sync
If you're looking for a gaming laptop that combines elegant design, power, and portability, then the MSI GS65 Stealth is an absolute winner. It's thin and light enough to be used as both a working notebook and a relatively powerful gaming PC, and thanks to some smart design, it's actually slightly smaller than most 15" laptops, while offering the same amount of screen real-estate. The case is 18mm thick, in brushed matte black aluminium, but what makes the difference is the 5mm bazels, that mean you've got less wasted space around the screen.
The performance matches the design too. The standard model has a 1060 Max-Q GPU as standard, but higher spec versions come with a 1070 Max-Q, which can easily handle most modern games at 60fps. The screen handles 144Hz too, so it's a great display to handle the output of the innards. It's worth stretching yourself to get the higher-spec machine, as you get increased SSD storage in addition to the upgraded GPU, which makes the whole laptop more capable and less likely to require upgrades or replacing any time soon. The top-spec machine has 16GB of DDR4-RAM (2400Mhz), and comes with a tidy i7-8750H processor.
The battery life is very impressive too, and there are some neat touches to finish the overall feel of the laptop, like an RGB-capable Steelseries keyboard, a powerful webcam, and a pleasingly sensitive touchpad. The only downside is that it doesn't support G-sync. It's the perfect machine for gaming AND work, and that makes the MSI GS65 Stealth our top pick.
2. Razer Blade 15
A sturdy, powerful gaming laptop
CPU: Intel Core i7-8750H | GPU: Nvidia GeForce GTX 1070 Max-Q | RAM: 16GB DDR4-2666MHz | Screen: 15.6-inch FHD (1,920 x 1,080) IPS 144Hz | Storage: 512GB SSD | Battery: 80 Whr | Dimensions: 9.25 x 13.98 x 0.68 inches | Weight: 4.63 lbs
Very solid design
Incredibly thin and easy to carry
Powerful and elegant
Wait? No Ethernet port
With Razer you know what you're getting: a quality product, made with gamers in mind above all else. The Razer Blade 15 is the epitome of this thinking, with everything tailored specifically for gaming use. At the top of the heap of impressive stats is the 1070 Max-Q GPU, which can handle pretty much anything at 60fps, or maybe even 100, if you mess with the settings. In terms of raw power, this machine is slightly ahead of our top pick, the MSI GS65 Stealth Thin. However, it doesn't quite match up in a couple of smaller areas, like battery life and portability.
The Razer Blade 15 is a lovely, finely-crafted laptop, but it's a shade heavier than the MSI, because the whole thing is made from a single, hollowed-out piece of aluminium. And whereas this makes it heavier, it also makes it more durable, so this isn't the kind of laptop that will bend and warp inside a satchel or suitcase. If you're looking to actually take your gaming on the road, and you expect a little roughness along the way, this is definitely the one to get. It's the tougher laptop, for sure.
Elsewhere the 15.6" screen handles everything you throw at it admirably, outputting in 144Hz, and Razer's trademark chroma effects offer a pleasing glow while you play. The only downside here is that there's no ethernet port, so you're relying on WiFi connections (not the most stable for gaming, unless you're on your own home network or with friends). Overall, it's a brilliant pick, if you can afford it, as it's more expensive than the MSI.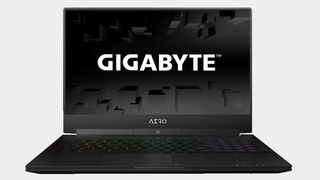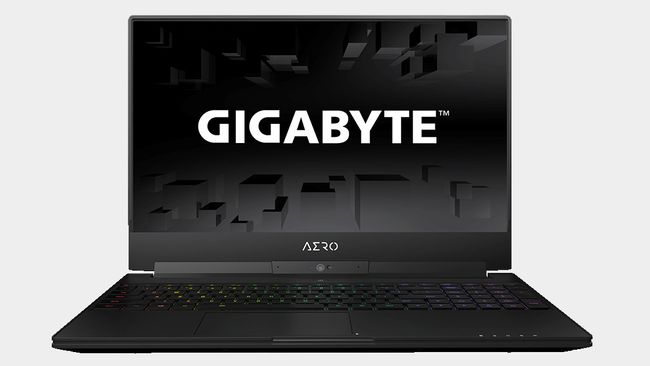 3. Gigabyte Aero 15X v8
More portability for your money
CPU: Intel Core i7-8750H | GPU: Nvidia GeForce GTX 1070 Max-Q | RAM: 16GB DDR4-2666MHz | Screen: 15.6-inch FHD (1,920 x 1,080) IPS 144Hz | Storage: 512GB SSD | Battery: 94 Whr | Dimensions: 9.8 x 14.0 x 0.74 inches | Weight: 4.49 lbs
Great battery life
Lovely screen
Powerful machine
Rough edges
Some driver issues out of the box
If you're looking for a gaming laptop that will last the journey on longer trips, and give you more performance per charge, then the Gigabyte Aero 15x leads the pack here. With a whopping 94whr battery, you can get upwards of six hours of heavy use from it, before needing to plug in. Given that the Aero's base specs are comparable to the other laptops in this list, that extra juice suddenly becomes very important.
What you get here is a 1070 Max-Q GPU, the same i7-8750H processor as the MSI and the Razer, and a generous 16GB of DDR4 RAM and 512GB SSD. In terms of performance, then, it's very much on a par with the best. We don't love the design as much as the MSI, and it isn't quite as sturdy as the Razer, but if these factors aren't as important, then the Aero 15x is just as good as the others on this list.
In fact, we really love the 144Hz screen, which can actually be upgraded to a 4K display if you want to throw more money at a better version of the laptop. Again, if you can find this cheap, you might be able to afford a slightly higher spec. A great laptop that isn't as beautiful or tough as its competitors, but stills offer the same raw power.
Some online stores give us a small cut if you buy something through one of our links. Read our affiliate policy for more info.