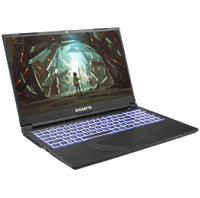 Gigabyte G5 KF | Nvidia RTX 4060 | Intel Core i5 12500H | 15.6-inch | 1080p | 144Hz | 8GB DDR4 | 512GB SSD | $1,099 $899 at Newegg (save $200 with coupon)
The Gigabyte G5 is our favorite affordable gaming laptop around right now, packing the RTX 4060 GPU for some serious 1080p gaming performance in a budget package. It's a smart spec that essentially uses an otherwise older specification with the simple addition of just the new Nvidia RTX 40-series graphics chip. The 512GB SSD is a bit miserly, but that is upgradeable, but the 8GB of DDR4 memory is the tougher issue. Again, the memory is upgradeable but it's still a bit frustrating. Still, a great gaming laptop for the money.
A lovely core spec in this little 15.6-inch gaming laptop. The Gigabyte G5 may not be the most beastly when it comes to its supporting spec, but you can bet it'll handle modern games with grace, even making the most of that 144Hz refresh rate panel at points.
Right now, the Gigabyte G5 is just $899 dollars at Newegg, and even the thought of a little upgrade down the line doesn't phase me for that kind of price.
The main thing to consider here is that, since the G5 only comes with 8GB of RAM it's certainly worth looking into upgrading the memory when you have a little cash to spare. But when you're getting such a great core combo for well under a grand, that day might come earlier than expected.
And while you wait, you can make the most of the lovely 12th Gen Intel CPU Gigabyte has jammed in there. Alongside that portable, current-gen Nvidia GeForce GPU this is a laptop that won't let you down at it's native 1080p resolution. You might even be able to push the 144 fps to give the refresh rate a run for its money.
That said, you might not be able to fit too many games on the 512GB SSD. But again, an upgrade wouldn't set you back too much.
Jacob also spotted this, the MSI Katana for $1,029 at $170 off, as the "I can't be arsed to upgrade the RAM myself option." You're getting a slightly less impressive Intel Core i5 12450H with the Katana, but double the RAM and storage capacity.