The first half of 2017 has been bountiful, with game of the year contenders sprouting across every genre. There's still much more for us to review—including some games that are already out—as the recent years' boom in PC game releases continues with gusto. Videogames: there are a lot of them.
A lot of them are good, and a few so far this year are great. Here are the highest review scores we've given out so far in 2017. We'll update this article as the year continues and our review catalog grows.
Rising Storm 2: Vietnam
| | Buy it: CDKeys, ,
The same 64-player, tactics-heavy shooting of the Red Orchestra and Rising Storm series, shifted from WWII to Vietnam. With automatic weapons in every hand, RS2 makes positioning, smoke grenades, and battlefield intel even more important. The new Supremacy mode disappoints somewhat, but the linear point-by-point Territories matches remain great.
Verdict: A fiery test of awareness, speed and accuracy which upholds the series' devotion to teamwork and authenticity, but doesn't nail the asymmetry of modern era combat.
Vanquish
The 2010 console game finally made its way to PC, bringing us another shot of Platinum's brand of third-person combat. "It was a product of its time, in that it felt like a response to—maybe even a subversion of—the wave of cover based shooters that emerged in the wake of Gears of War," wrote Phil in his review. "It's got the third person view and the waist high walls, but also lets you rocket slide across the map, slow-mo decapitating robots as you go. It's a dumb, brash shooter, but clever with it."
Verdict: A great port of an entertainingly subversive cover shooter. It's short, but the core loop never gets old.
Flinthook
A roguelike platformer that's more forgiving than Spelunky, made great by its grappling hook. "The hook has a limited range, but it doesn't bend or bow and there's no cooldown," wrote Shaun. "Basically, if you're not moving around each room with the erraticness of a beheaded chicken, shooting and dodging bullets with your hook all the way, then you're not playing the game properly."
Verdict: A satisfying, moreish take on the roguelike formula, and one that's most likely to appeal to genre naysayers.
Prey
| | Buy it: CDKeys, ,
An immersive sim in the style of the classics. The combat is disappointing, but the horrible mimics, who might be a chair or a coffee mug waiting to pounce, the gorgeous, open space station, and the freeform creative problem solving make Prey (not to be confused with the 2006 game it shares little in common with) a great success. It also has one of the best intros we've played in a good while.
Verdict: It's let down by lacklustre combat and some annoying enemy design, but Prey is still a compelling, beautiful immersive sim.
What Remains of Edith Finch
A series of stories about a strange, deceased family, each told with different first-person formats. The interactivity is sparse—it's often a guided experience—but the stories themselves are fantastic. "What Remains of Edith Finch is a masterful piece of storytelling: gorgeous, skillfully told, uplifting in places, and devastating in others," wrote Andy Chalk. "Avoid seeing too many spoilers— seriously, I can't think of a game more in need of being unspoiled than this one—and play it."
Verdict: Touching, sad, and brilliant; a story worth forgiving the limited interactivity to experience.
Everything
| | Buy it: GOG, ,
Inhabit a cow and tumble end-over-end, or become a microbe, or a galaxy. Everything lives up to its name—though it obviously doesn't include literally everything, it lets players become the tiniest molecules or entire islands, planets, and beyond. Mixed in with this surreal playspace are audio recordings of philosopher Alan Watts. It's a slow burn, but worth the silly, life-examining trip.
Verdict: Funny, philosophical, and deeply, deeply weird, there's nothing else quite like Everything on PC.
Scanner Sombre
| | Buy it: GOG, ,
You're exploring a cave, but you can't see in the dark—except with LIDAR, which paints every surface with colorful dots. It's a unique premise that conveys space (the sound design helps, too) and natural beauty without rendering a single rock texture.
Verdict: A beautiful but short-lived expedition that left me wanting more of its best ideas.
Outlast 2
| | Buy it: GOG, ,
First-person horror at its most disgusting, Outlast 2 suffers from some confusing stealth segments, but makes up for it with pure horror. "Long after the final minutes of Outlast 2, I felt queasy, uncertain that what I saw had actually happened," wrote James. "It's one of the most bizarre ending sequences I've witnessed, tapping into a fear I've known since my first week at Sunday school."
Verdict: Stealth and pursuit haven't changed much in Outlast 2, but it excels as a beautiful, brutal journey through extreme spiritual anxieties.
Zero Escape: The Nonary Games
A double feature which includes two puzzling visual novels, 999 and Virtue's Last Reward, The Nonary Games is "like submerging your brain in a jacuzzi," wrote Andy. For fans of branching paths (and horrible deaths, as Andy put it), point-and-click puzzles, and philosophy lectures.
Verdict: Smart without being overbearing, Zero Escape: The Nonary Games continues to set the bar for its genre.
The Sexy Brutale
| | Buy it: GOG, ,
A curious adventure game in which the player returns to the start of the same costume ball again and again on a quest to prevent a series of murders that take place during the evening. The beauty and cleverness of it make up for the built-in repetitiveness.
Verdict: A stylish and creative adventure with a clever time-rewinding hook.
Bayonetta
Good things come to those who wait: the PC now has the best version of one of the best hack-n-slash games ever made. Bayonetta's fluid fighting style—combos, dodges, hair-based attacks—and absurd story deserved 4K and 60 fps support, and we're happy it's finally joined us.
"Bayonetta is about flow," says Phil. "In part, this is thanks to an advanced combat trick that brings everything full circle. If you dodge in the middle of a combo while holding down either punch or kick, you can resume the combo out of the dodge. This offset speaks to the fluidity of Bayonetta's fighting style—as does the way she so smoothly transitions from dodge into attack, or from melee to guns."
Verdict: A great port of what is still one of the best action games around. Bayonetta is the essential hack-'n-slash.
Stellaris: Utopia
Our review (87%) | Official site | Buy it: Steam, Humble Store
"If you want to build a giant Dyson sphere around a sun to steal all of its energy and make any planets that depended on it freeze to death, you can do that," wrote TJ in our review. And who doesn't? Stellaris' Utopia expansion overhauls politics, adds factions to your population, and introduces Tradition trees—which are how you might blot out the sun. The add-on gives Stellaris a big push in the right direction, filling out the previously light mid-game.
Verdict: Paradox's biggest expansion yet brings Stellaris closer to its original promise with a stellar rework of internal politics and new endgame goals.
The Signal From Tölva
Our review (80%) | Official site | Buy it: GOG, Steam, Humble Store
Big Robot, which is headed by former PC Gamer contributor Jim Rossignol, brings us a sci-fi shooter mystery that's two parts exploration—hopping and stomping around—and one part "crisp, satisfying combat," as our review states. It's slow-paced, but smart, lean, and a step above the developer's previous game, Sir, You Are Being Hunted.
Verdict: A fascinating setting and fizzing gunplay make for a lean, thoughtful exploration-led shooter.
Battle Brothers
Our review (84%) | Official site | Buy it: Steam, Humble Store
Like XCOM with lower stakes and axes instead of guns, Battle Brothers is pure fun. Manage a band of mercenaries, earn money to expand your operation and reach more distant contracts on the wide-open map, and fret over decisions in turn-based battles. "I kept humming with the victory and despair I usually reserve for XCOM campaigns," wrote Ian in our review. "The archer who makes a wondrous 19% headshot; the swordsman who blocks and dodges his way out of certain death; the veteran soldier suddenly gutted, lost forever behind the veil of permadeath." (It's also surprisingly gory given its cute little big-headed character sprites.)
Verdict: Don't let some clunky inventories scare you off from this excellent strategy RPG.
Thimbleweed Park
Our review (84%) | Official site | Buy it: GOG, Steam
A throwback to '90s adventure games, but not a nostalgia-driven rehash—Thimbleweed Park builds on the genre and is great on its own merits. It's funny, and full of smart puzzles that "rarely require the absurd leaps of logic that would have you dialling the LucasArts hint line in the '90s," as Andy put it in his review.
Verdict: A quality adventure game with challenging puzzles, oddball characters, and an intriguing, mystery-laden plot.
Rain World
Our review (80%) | Official site | Buy it: GOG, Steam, Humble Store
If you aren't turned off by the obtuse introduction and constant, crushing challenge, Rain World rewards with unforgettable gloom. "The early hours are taxing, and in all honesty, it continues to be taxing," wrote Shaun in our review. "It's not relaxing. It's not a game to wash away your daily worries with. But the variety of the world's barren landscapes will keep the determined pushing on, and the seemingly insurmountable challenges are, well, surmountable, but not thanks to 'tricks' per se. You just have to be smart about it. You have to learn—and then very vaguely know—how to survive."
But at least slugcat is cute!
Verdict: Few will see the more remote corners of Rain World's relentlessly dire stretch, but those who do are unlikely to forget the experience.
Nier: Automata
Our review (79%) | Official site | Buy it: CDKeys, Steam, Humble Store
An office favorite, Nier: Automata is bizarre open-world RPG with PlatinumGames' signature speed-comboing combat—but that can seamlessly transition into twin-stick shooting whenever it wants. The combination works, as does the mournful, weird story and all its quirks. "Automata is a remarkable game with an incredible amount of style, personality, and flair," said Andy in his review.
Verdict: A beautiful, melancholy action RPG that's effortlessly stylish and utterly unpredictable.
Mass Effect: Andromeda
Our review (80%) | Official site | Buy it: CDKeys, Origin
Andromeda is a contentious game, even—or maybe especially—among PC Gamer's staff and writers: some despise it, some enjoy it. It was burdened by high expectations, and didn't succeed at everything we hoped. But BioWare games are nearly always unmatched in certain aspects, and Andromeda is an accomplishment in scope, with some great missions and moments buried within its hours of dialogue and exploration.
Verdict: Marred by inconsistency and in need of a polish pass, this vast new sci-fi frontier nonetheless rewards dedicated exploration.
The Elder Scrolls: Legends
Our review (78%) | Official site
Tim couldn't help but to compare Legends to Hearthstone in his review—how could he not, given the obvious parallels—and found that its deeper, less RNG-heavy systems provide a good alternative to Blizzards' hit CCG. It lacks the same charm and vast playerbase, but delivers on the strategy.
Verdict: A deep, and potentially rewarding alternative to Hearthstone that suffers from underwhelming art design and desperately needs an injection of players to grow the scene.
Styx: Shards of Darkness
Our review (79%) | Official site | Buy it: CDKeys, Steam, Humble Store
A pure stealth game that stars a cynical, sweary goblin, the second Styx game is another lowkey release with a lot of good in it: "A generous game with a huge amount of stuff to do, some wonderfully realised levels, all of it augmented with an admirably flexible skill system that encourages and rewards creative thinking," said Jon in our review.
Verdict: A mean-spirited character leads a big-hearted game; you're unlikely to dwell on its lore but its features combine well to create a satisfying stealth experience.
Deus Ex: Mankind Divided — A Criminal Past
Our review (79%) | Official site | Buy it: Steam, Humble Store
A maximum security prison provides the stealth-action playground in this Mankind Divided DLC, and while the story isn't brilliant, the level itself is fun to puzzle out for six to seven hours. "While previous DLC System Rift felt like a retread of Mankind Divided, this mission is much more distinct," said Andy. "The prison setting is radically different from anything else in Eidos Montreal's rebooted Deus Ex, and the restrictions it places on you forces you to really dig into the game's systems."
Verdict: A well-designed level that forces you out of your comfort zone and fills in some of Adam Jensen's backstory.
Stories Untold
Our review (80%) | Official site | Buy it: GOG, Steam, Humble Store
You're playing a text adventure, but not on your PC—on a virtual computer on a virtual desk. And as you explore, strange things start happening in your virtual room. Stories Untold is "a wonderfully creepy idea," wrote Andy, which is told in four episodes that form a "fascinating, subversive experiment in storytelling that delights in messing with your head."
Verdict: An atmospheric collection of clever, surprising interactive short stories with a gorgeous retro aesthetic.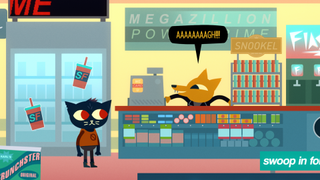 Night in the Woods
Our review (82%) | Official site | Buy it: GOG, Steam, Humble Store
Light platforming and incongruous Guitar Hero-style bass playing complement a funny, sad story about a young cat—well, a person who looks like a cat—returning home to her family and friends after dropping out of college. "Night in the Woods is a pretty special game," wrote Andy. "It's a celebration of why life is awesome, but never shrinks away from the fact that it can also be really shitty as well. And it wrestles with difficult issues in a way that made me think about my own life and relationships."
Verdict: A beautiful, heartfelt coming of age story that says something about life, and cracks a few jokes in the process.
Torment: Tides of Numenera
Our review (89%) | Official site | Buy it: CDKeys, GOG, Steam,
Planescape: Torment probably wasn't going to be outdone by any successor, but Tides of Numenera succeeds at delivering the same style of text-heavy, philosophical roleplaying in a strange new setting. "A little bit more humour would help disarm some of the game's more self-serious moments, but I found the quality of the writing and the genuine philosophical complexity of Tides of Numenera's questions compelling in a way that games rarely achieve," Chris wrote in his review. "To say this is an RPG written of shades of grey is an understatement: in fact, given the multi-hued Tides of the title, you could say that it's written in shades of everything."
Verdict: A slow start gives way to a thought-provoking adventure in a remarkable setting. A fitting follow-up to a beloved RPG.
Sniper Elite 4
Our review (84%) | Official site | Buy it: CDKeys, Steam, Humble Store
The story can be safely ignored, but Sniper Elite 4's big sandboxes for stealth and sniping are the series' best. Nearly every complaint we had about the game that came before it has been addressed in some way, and Italy makes for a beautiful setting—at least until you watch a slow-mo x-ray shot of someone's kidney exploding.
Verdict: A hearty improvement on Sniper Elite 3 that embraces freeform play, gets better in co-op, and most importantly lets us shoot things from very far away.
Resident Evil 7
Our review (90%) | Official site | Buy it: CDKeys, Steam, Humble Store
A reset for the Resident Evil series, RE7 moves away from the action movie stylings of the last few games for a creepier, first-person horror adventure. " It takes an industrial pressure washer to the series, blasting off years of accumulated filth and grime," wrote Andy. "And you're left with a lean, polished survival horror that borrows from its legacy, but isn't afraid to look to modern horror games for inspiration too."
Verdict: Not the dramatic reinvention we expected, but this is tense and refined survival horror with a brilliantly bleak, grimy atmosphere.
Hollow Knight
What makes Hollow Knight stand out, above all else, is how expansive and lush its subterranean kingdom of Hallownest is. It's a Metroidvania you could easy spend 30 hours playing and still have more to discover. Its bug-themed world is a wonderful mix of dark and depressing tones with adorable characters and hand drawn art. Hollow Knight is a surprise hit of 2017, and truly one you don't want to miss.
Verdict: Hollow Knight is a new classic, with a dense and detailed world full of secrets to discover.
Some online stores give us a small cut if you buy something through one of our links. Read our for more info.