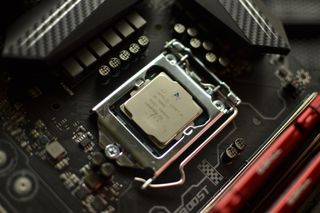 You want a new processor, you've checked out our best CPU for gaming guide, and now you need to know the best CPU deals available right now. Well, we can help out with that too.
The processor is the brains of your gaming rig. No matter what you're running, whether it's the CPU-intensive Planetside 2 or Minecraft, the processor will be doing all the important number crunching, so you want to make sure you're getting the right one and for the right money.
Some highlights this week: The Intel Core i5-7600K is one of Intel's new fancy Kaby Lake chips, and you can pick one up from Micro Center for cheap at the moment.
For under half that though there's always the impressive little Intel Core i3-6100. It's a dual-core chip, but with four threads and the Skylake Core architecture will get better gaming performance than a similarly-priced AMD processor.
AMD CPUs
- AMD's new generation of Ryzen processors is here, and much like with Kaby Lake, we'll have to wait a while for the best deals, but you can still find some money off. The big dog from the new Ryzen line up is the Ryzen 7 1800X, which will give you 4.0 GHz boost clock. Most of the retailers have the same prices at the moment, with the best being $470 on Amazon.
- The next step down is the Ryzen 7 1700X, giving you slightly less clock speed, saving you a chunk of money. You can find one at the moment at Amazon for $383.
- On the lower end of the Ryzen performance line is the Ryzen 7 1700. You've still got the eight cores and 16 threads, but a lower clock speed. Grab one on Amazon for $326 with the Wraith Spire Cooler included. You can get it a little cheaper if you can travel to a Micro Center.
- In the Ryzen mainstream line we've got the Ryzen 5 1600X, bringing you six cores and twelve threads. It's currently sitting at $250 at Micro Center, and it's the same price on Amazon, but probably not for long.
- AMD's really starting to compete in terms of price and performance with its new generation of CPUs. The Ryzen 5 1400 is a budget option, and can be .
Intel CPUs
Cores - 4 | Threads - 8 | Clockspeed - 4.2GHz | Socket - LGA 1151 | $300
- Hold onto your hats, Intel's new generation of processors Kaby Lake is here, featuring higher clock speeds and new features. They're brand new so you won't see much money off at the moment, but you can find the big dog Core i7-7700K cheapest at Micro Center for $300. If there's no store near you, you'll have to settle for $350 on Newegg.
Cores - 4 | Threads - 4 | Clockspeed - 4.2GHz | Socket - LGA 1151 | $210
- Similarly, Micro Center has a Core i5-7600K for $210 at the moment. These are the high quality Kaby Lake option that most people will be opting for. If you can't travel, Amazon is currently your best bet at $229.
On the lower end of the Kaby Lake consumer line we have the Core i3-7350K. Only two cores, but hyperthreading makes up for it and the clock speed is nice and high. Grab one for . Amazon is only $10 more right now at $170.
Cores - 4 | Threads - 8 | Clockspeed - 4GHz | Socket - LGA 1151 | $277
- The Intel Core i7-6700K is the Skylake hero product, with a hefty clockspeed and serious overclocking potential too. Amazon is actually cheaper than Micro Center right now, where it's $280.
Cores - 4 | Threads - 4 | Clockspeed - 3.5GHz | Socket - LGA 1151 | $220
- Our favorite Skylake processor, the Intel Core i5-6600K handles all modern games, has good overclocking potential, and it supports the Z170 platform, which brings lots of PCIe lanes for all your SSD and memory needs. Find one at Amazon for $220. Like elsewhere in here, you'll get a better deal if you can travel to a Micro Center, where you'll find one for $200.
In our guide to the best gaming processors we've picked out our favourite overall gaming CPU, the best high-end option and the best budget processor for gaming. Here are the best prices we've found around the web for each of them today.
"Although this i5 has an almost identical spec to our previous favourite CPU, the Core i5-4690K, overall performance for this processor trumps its predecessor by up to 10% in rendering, archiving and other workstation simulated tasks."
"Is this truly still better than Skylake's crème de la crème of processors, the i7-6700K? Yep, absolutely. In computational benchmarks those six cores run rings around its Skylake cousin."
"While it's a no-frills processor, as it's only a dual-core model, and lacks Turbo Mode or hyper-threading, this is still enough to drive the majority of games at playable resolution and detail settings."
A note on affiliates: some of our stories, like this one, include affiliate links to online stores. Some of these online stores share a small amount of revenue with us if you buy something through one of these links, which help support our work evaluating components and games.