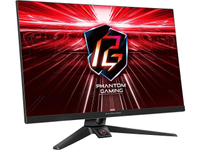 ASRock Phantom Gaming PG27FF1A | 27-inch | 165Hz | 1080p | IPS | $179.99 $99.99 at Newegg (save $80)
A 165Hz IPS 27-inch gaming monitor? From a brand you've actually heard of? From a US etailer not some shadey outfit on the other side of the word? What a bargain. Just note that you'll need to apply for the rebate to get the final $25 off.
A 27-inch, IPS, 1765Hz gaming monitor from a brand you've actually heard of? At last, I have seen everything. And, yes, that includes a man eating his own head.
Give it up, therefore, for the implausibly impecunious ASRock Phantom Gaming PG27FF1A, yours for precisely $100 from Newegg. At that price point, all kinds of allowances can be made. And yet remarkably few are forced upon you.
The IPS panel is said to be good for 94% coverage of the DCI-P3 gamut and response comes in at 1ms, albeit by the MPRT measure which typically means you're looking at around 2ms by the more demanding GtG metric. But that's still decently fast.
For connectivity you get both DisplayPort and HDMI and the natty looking stand supports both tilt and swivel adjustment, but not height. Along with the 165Hz refresh, there's also AMD FreeSync Premium support, so slick tear-free gaming is on the menu.
Heck there's even HDR 10 signal processing support. As for what you don't get, well, that also involves HDR. As in you don't get a true HDR experience. Not with just 250 nits of peak brightness and no local dimming.
Of course, 250 nits is about the same brightness as a $1,000 QD-OLED monitor manages full screen. So while we'd prefer a higher figure, it's not an absolute deal breaker, especially at this price point.
The other conspicuous absence is pixel density. This is a 1080p 27-incher and the result is just 82 pixels per inch. That is a little bit fugly for things like fonts in Windows and image sharpness. But then if you're shopping at this end of the market, you're unlikely to be packing a $1,000 GPU.
In other words, 1080p is a good fit for a budget gaming monitor if you want decent frame rates from a relatively affordable graphics cards. All told, then, this is a spectacular deal and really the only negative, apart from the minor annoyance of applying for the rebate to get the final $25 off, is just how overpriced this monitor makes a budget GPU look.
If you can have this screen, with its 27-inch IPS panel, LED backlight, control electronics, chassis and stand all bought, paid for and shipped for just $100 plus sales tax, well, Nvidia's shonkiest graphics card for $300 is a bit of a joke, isn't it?