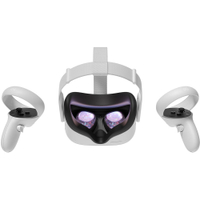 Meta Quest 2 | 128GB model | Includes $50 gift card | $349.99 $249 at B&H Photo (save $100.99)
This is a great deal on a VR headset that has only very recently been replaced by a shinier model. Whether you use it tethered to a gaming PC or as a standalone device, you'll likely have a good time wandering in virtual reality with a Quest 2. The extra $50 gift card included here helps make this headset feel like an extra sweet deal.
Price check: Best Buy $249.99 | Amazon out of stock
If you're after a VR headset in time for the holidays, you have your pick of the lot. You can spend your hard-earned cash on Meta's latest Quest 3, a properly next-gen VR and AR experience, or stick with Valve's tried and tested tethered Index. Though I'm pretty sure you'll find none cheaper—and still worth buying—than the Quest 2 for $249 right now on B&H Photo.
It might be yesterday's best VR headset but the Quest 2 is arguably the best on a budget right now.
While primarily intended as a standalone headset—that is, one that does not require a PC or laptop in order to run games and apps—the Quest 2 does shine as a tethered headset for PC users. You can hook it up with any high-quality USB Type-C cable of matching the bandwidth requirements for Oculus Link, though only the best cables offer both power and data delivery simultaneously. I've opted for the official Oculus Link cable at home, though it's pretty expensive and others can get the job done.
Once hooked up you can use the Quest 2 like you would any SteamVR compatible headset. Though unlike the Index or most of HTC's Vive devices, you need not set up any fiddly base stations to get rolling in VR. The Quest 2 has inside-out tracking and works great at tracking your environment and its controllers providing there are decent light levels. What you're missing here is the full colour, AR-capable passthrough of the newer Quest 3, though for a VR-only headset that's not critical.
You can still get a lot of VR gaming mileage out of the older Quest 2—it offers a great screen, built-in audio, and a pretty simple setup process.
And let's not forget, the Quest 3 isn't a like-for-like priced option. The newer headset starts out at $499, more or less double the price of the Quest 2 today. That's not even including the $50 gift card that Amazon is willing to throw in alongside the headset as a part of its holiday bundle. Now don't forget to select that bundle on the page, as the headset alone sans gift card is also $250 and could be easily confused for the better deal.
Personally, I'd spend that gift card buying a better strap for the Quest 2. The included fabric strap is pretty dreadful, to be honest, and it's no better on the Quest 3 either from my time with the newer device so far. One of the best decisions I made when setting up my own Quest 2 a few years ago was to buy a brand new Elite strap, and it's so much better for it. Though frustratingly the Quest 3 doesn't quite fit the older Elite strap design—that sucks, just so you know, Meta.
If you're looking to get into VR but you're not sure it's necessarily going to keep you hooked for a long time, this sort of headset at this price is probably the best deal you're going to get to try it out. I'm sure we'll see Quest 2 stock dry up in the future, but for now this stands as one of the cheapest ways to get into actually decent VR.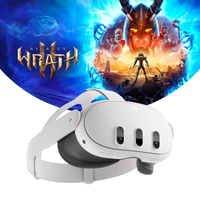 Meta Quest 3 | 128GB model | Asgard's Wrath 2 included | $499 at Amazon
The Quest 3 is still too fresh on the scene to receive any serious money off yet. Though Amazon does have it for 99 cents less than some. If you really can't stand to have a slightly older model, this is still a good value headset. You can read more about it in our Quest 3 review.