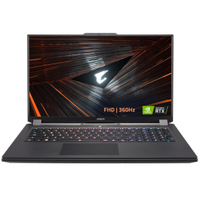 (opens in new tab)
Gigabyte Aorus 17 | Nvidia RTX 3080 Ti | Intel Core i7 12700H | 17.3-inch | 360Hz | 1080p | 32GB DDR5 | 1TB SSD | $2,499 $1,929 at Newegg (save $570) (opens in new tab)
This is a high-spec gaming laptop for less than you'll find any lower-spec RTX 4080 machine retailing for. Having spent time with a bunch of 16:10 notebooks, I would miss the large resolution with this 1080p screen, but it's 360Hz, so it will be lovely in games. There's also a lot of memory, a good chunk of storage, and the most powerful GPU of the last generation, running at 130W.
Newegg has a deal on a ridiculously overpowered Gigabyte Aorus 17 for $1929 (opens in new tab), nearly $600 off its normal listing price. Amazon (opens in new tab) has the same deal. The laptop hasn't sold at list for a little while, but was $2,100 for most of January, and went for $2,500 as recently as December. This is the second time it's sold at this price, which is the lowest it's hit. It's also a beast of a gaming laptop that can easily outperform most other gaming laptops and even some desktops.
Inside the Aorus 17 are an Intel Core 7 12700H CPU and an RTX 3080 Ti GPU combo with a whopping 32GB of DDR5 RAM. Not only will you be able to play most games on high settings, but this also makes for a great editing and streaming laptop thanks to its 13th gen Intel CPU.

Just as RTX 40-series machines are starting to hit the scene, the deals on premium RTX-30 series gaming machines are getting better, especially ones that double as workstations.
The Aorus 17 sports a 17-inch 1080p display with a fast refresh rate of 360Hz. A 1440p display would be nice, but the high refresh rate is good for action and competitive games—like Valorant, Fortnite, and Call of Duty: Warzone—and at 1080p you'll be able to make good use of it.
The only downside is that the 1TB SDD isn't an NVMe SSD, but considering everything you get, it's a minor gripe. If you need more storage for work, consider picking up an external SSD (opens in new tab) that's small enough to fit in a pocket.
As much as I usually like Aorus gaming laptops, the chassis itself lacks the flair of other premium laptops like the Razer Blade 17 (opens in new tab) or Alienware X17 (opens in new tab). On the other hand, there are gamers who prefer that their laptops don't scream, "I play videogames on this."