Building your own gaming PC is harder than ever right now, with most graphics cards (and even some CPUs) becoming difficult to buy at normal prices, so pre-built desktops are as good as it gets in some cases. Right now you can get one of MSI's gaming PCs with a Radeon RX 5600 XT graphics card for $899.99. That's a $200 discount over the original price, though only a $100 savings from the previous price.
This desktop is powered by an Intel Core i5-9400 processor, a 6-core/6-thread CPU with a base clock of 2.9GHz that can boost to 4.1GHz. You also get 16GB RAM, a 240GB SSD for Windows, a 7200RPM 1TB hard drive for games, a 550W 80+ Bronze PSU, and an unspecified Intel B365 motherboard.
MSI is using the AMD Radeon RX 5600 XT graphics card in this build, which makes the PC a great 1080p gaming machine (with some 1440p capabilities). If you're interested in detailed performance information, check out our original review here for some benchmarks.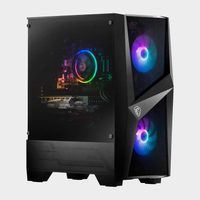 (opens in new tab)
The hardware in this PC is definitely a bit on the old side—that Core i5 chip is from 2019, and the RX 5600 XT is a little over a year old at this point. The discount could come from MSI hoping to offload old inventory, but you're still getting a good deal in the end. Most gaming PCs in this price range (opens in new tab) only have 8GB RAM, not the 16GB found in this build. The RX 5600 XT is also comparable in performance to the GTX 1660 and 1660 Ti cards found in most other sub-$1,000 PCs. The main issue here is the smaller system SSD, but that's easily upgradable down the road.