Alienware laptops certainly are stylish, and though they don't always offer top value for money, sometimes they really do. Now is one of those times. This is one of the best Australian laptop deals we've seen for a machine with an RTX 3070 Ti graphics card.
But just saying the m17 R5's got a good GPU is doing it a disservice. AMD's Ryzen 7 6800H is a powerful CPU, and one that's known to be power thrifty. Though a 17-inch laptop isn't likely one you'll carry to the office or campus every day, if you do, you'll get great battery life. You can even game with it for more than a few minutes - something that can't be said for all gaming laptops - thanks to a 97Wh battery.
Other key specs include 16GB of DDR5-4800 memory and a 1TB NVMe SSD. That means you'll be able to store a game library of dozens of AAA to hundreds of indies, 158 seasons of the Simpsons, and a PDF or two.
Be warned that this is a chunky laptop, as all 17-inchers are. Although while it looks big, it's not as heavy as you might expect, weighing in at 3.3KG. Weight aside, a big laptop comes with a big screen, and this 1080p 165Hz IPS panel with Nvidia G-Sync support means you'll get buttery smooth gameplay, even when playing the latest games.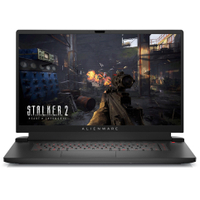 Alienware m17 R5 | Ryzen 7 6800H | RTX 3070 Ti | 1TB SSD | 16GB DDR5-4800 | AU$1,998.70 at Dell
This 17-incher packs in a powerful 8-core CPU and RTX 3070 Ti graphics card. Though not the latest spec on paper, you won't find better specs at this price. The 17-inch 1080p screen runs at 165Hz, and with a 1TB SSD and lots of connectivity options, it'd make a decent desktop replacement. If you do want to take it with you, you'll get adequate battery life too.
Gaming isn't the only use case for this Alienware though. It's got a comprehensive set of connectivity options, including a Type-C USB 3.2 Gen 2 port that supports Display Port 1.4 and Power Delivery (5V/3A) capabilities. Add to that another two Type-A Gen 1 ports, a HDMI 2.1 output, headset and Ethernet ports and there's no reason the Alienware m17 R5 won't happily function as a desktop replacement with an extra monitor or two for productivity purposes.
Prefer an Intel rig instead? If so, Alienware's not the only one with a great 17-inch gaming laptop deal this week - the below Gigabyte Aorus 17 has a fundamentally similar spec, but comes with an Intel Core i7-12700H CPU instead of the Alienware's Ryzen.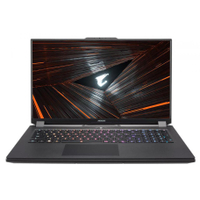 Gigabyte Aorus 17.3" | i7-12700H | RTX 3070 Ti | 1TB SSD | 16GB DDR4-3200 | AU$3,999 AU$2,299 at Mwave (Save AU$1,700)
Should you prefer your 17-in laptop with an Intel flavour, this powerful Gigabyte includes a 12th Gen Core i7-12700H CPU. It's got many of the same features as the Alienware but it includes an amazing 360Hz IPS screen with a thin bezel, making it look bigger than it's 17.3-in size would suggest. And it'd got Thunderbolt 4 too for next-gen connectivity support.
Though it costs a couple of hundred more than the Alienware m17 R5, the extra is arguably well worth the money because this Gigabyte unit includes some truly tasty additions.
We've got a comprehensive review of the Gigabyte Aorus 17 XE4 if you want the full rundown, but to quickly summarise why we like this one, the i7-12700H at the heart of this laptop packs in plenty of cores and a high clock speed. It offers a total of 14 cores, made up of six Performance cores and eight Efficient cores, giving you 20 threads of grunt for gaming or productivity. A 1TB SSD and 16GB of DDR4 memory are standard too.
The RTX 3070 Ti remains the same, offering plenty of pixel pushing power, but in this case, the screen is the differentiator. The Aorus 17 offers an incredible 360Hz IPS screen. It's not easy to hit 360FPS at the best of times, but if you're one of the millions enjoying the likes of CS:GO, Apex Legends or Valorant, you'll appreciate the smooth and responsive performance of the Aorus 17.
Gigabyte says the thin bezels of the Aorus 17 make is slightly smaller than a comparable 17.3-inch laptop, but it's the weight that stands out: at just 2.7KG, it's not all that heavier than 15-inch gaming laptops, though its sheer size may preclude true portability.
Whichever laptop you go for, both the Alienware m17 R5 and the Gigabyte Aorus 17 XE4 are big and powerful units with loads of gaming prowess, quality feature sets, desktop replacement capabilities and for a limited time - big discounts.