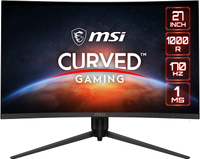 MSI Optix G271CQP | 27-inch | 170Hz | 2560 x 1440 | VA | $279.99 $179.99 at Amazon (save $100)
Rejoice, for 1440p high-refresh gaming is officially affordable. It really is hard to argue with this 170Hz 1440p 27-inch MSI monitor. It uses VA panel tech, of course, but the response rating of 1ms MPRT is definitely decent. If you haven't already made the jump from 1080p to 1440p, now is the time.
One hundred and seventy nine bucks for a high refresh 1440p panel? To paraphrase Bruce Willis in Pulp Fiction, 1080p's dead, baby, 1080p's dead. Give it up for the MSI Optix G271CQP, yours for a mere $179 thanks to Amazon Prime Day.
At least, we'd struggle to pick 1080p now that you can have high refresh 1440p for such an affordable price. But there has to be a catch, right? Well, the obvious issue is that the MSI Optix G271CQP runs VA rather than IPS panel tech.
In the past, VA tended to suffer from poor pixel response. But that just isn't true any longer. This monitor is rated at 1ms for response, albeit that's MPRT not GtG. MSI doesn't quote a figure for GtG response, which is a bit more representative of real-world usage. But most 1ms MPRT panels come in at 2ms GtG, which is pretty decent.
The other on-paper issue is the 250-nit brightness. However, thanks to the VA panel tech, which offers 3,000:1 contrast or about three times that of a typical IPS panel, those nits tend to work a little harder. And it's worth remembering that all those fancy OLED screens with LG WOLED tech would love to be able to do 250 nits full screen.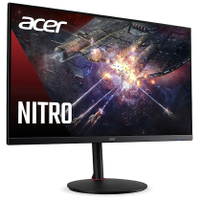 Acer Nitro XV272U | 27-inch | 170Hz OC | 1440p | IPS | $399.99 $224.99 at Micro Center (save $175)
Coming with FreeSync Premium, this monitor will see you through whatever GPU you have. This version can be overclocked to give you up to a 170Hz refresh, and it's also an IPS. Not too shabby for that price. This deal was found for cheaper at Amazon, however, but that deal is now sold out.
Price check: Amazon $189.99 (sold out)
No, the real problem with this screen, if there is one, is the fact that the Acer Nitro XV272U can be had for just $10 more, and that's an IPS panel rated at 400 nits. So, it's really a case of taking your choice and paying your money. At least it could earlier during the Prime Day sale, as we write the price has jumped back up.
If you want better contrast and black levels, plus a very slight uptick in refresh rate, go for this MSI panel. If you want superior brightness and probably marginally better pixel response, it's was only $10 more for the Acer and hopefully it will return to that price.
Either way, you're getting far more pixels, precision and image detail than any 1080p panel at a remarkably reasonable price. if you haven't already, now is surely the time to make the jump from 1080p to 1440p.