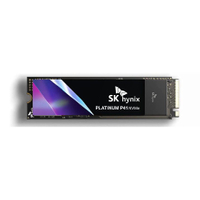 SK Hynix Platinum P41 | 1TB | NVMe | PCIe 4.0 | 7,000MB/s read | 6,500MB/s write | $64.09 at Amazon
If you're after a speedy SSD, the SK Hynix P41 Platinum is right up there with the very best. It's our current pick for the most powerful SSD and recipient of an Editor's Choice award. A just over $64 for the 1TB version, its a real bargain. There are cheaper 1TB SSDs out there, but if you need a fast PCIe 4.0 SSD, the P41 is the drive to go for.
It's pretty shocking to see just how much PCIe 4.0 SSDs have plummeted in price over recent months. A year or so back they were far too expensive to recommend over PCIe 3.0 drives, and now history is repeating. It's impossible to recommend PCIe 5.0 drives when a cracking performer like the SK Hynix P41 Platinum 1TB can be had for just over 64 bucks, a 29% saving.
The 2TB version of the SK Hynix P41 was the recipient of our hard-to-earn Editor's Choice Award. In his review, Jeremy called it a "damn fine drive" and that sums it up in a nutshell really.
Even though the SK Hynix name might not be as well known as the Samsung's and Western Digital's of the world, SK Hynix is one of the big names in SSD manufacturing, and it bought Intel's SSD business. It knows how to make a top quality SSD as much as any company out there.
Th P41 can max out the full speed of a PCIe 4.0 x4 link, delivering 7,000MB/s and 6,500 MB/s read and write speeds, and its IOPS performance is up there with the best too, with a rated 1.4M and 1.3M read and write in/out operations per second. So if you're putting together a system or upgrading for the likes of Baldur's Gate 3, or Starfield, this is the kind of drive you'll want to minimize loading times and level transitions.
Should you be looking for something a little bigger, there are plenty of cheap SSD deals to consider, no matter if you're after a laptop upgrade, a cheapie for storing digital media or something for an Asus ROG Ally.