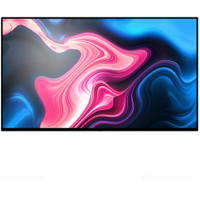 (opens in new tab)
Dough Spectrum 4K | 27-inch | 144Hz | IPS | $949 $649 at Dough (save $300) (opens in new tab)
This speedy gaming monitor, with impressive contrast and great colour handling, is finally at a price we can recommend it for. It comes with USB hubs, USB Type-C downstream charging and is well calibrated out of the box. That price is sans-stand, so if you don't already have a monitor mount you'll have to find an extra $99 somewhere.
I'm all ears for this one, or all eyes as the case may be for a gaming monitor deal. Previously known as the Eve Spectrum 4K gaming monitor (opens in new tab), though the manufacturer now goes by the name of Dough (for reasons), this high-end gaming monitor now benefits from a $300 discount, though the deal only applies to North Americans.
Still, bagging the Spectrum 4K for $649 (opens in new tab) is not an opportunity to be missed, since its finally dropped to the price we would have recommended you pay for a gaming monitor of this calibre. That price is sans-stand, though, so if you don't already have a monitor mount you'll have to find an extra $99 for the stand.
We checked out the Spectrum 4K back in 2021 and were seriously impressed. That score of 90% was only tarnished by a couple of small downsides. Indeed, Dough managed to mould us into fans with this entry into the high-end gaming monitor space, though the usual $949 asking price was a serious bugbear of ours.
Now this 27-inch, 144Hz gaming monitor, with its fantastic LG IPS panel and broad connectivity options, can be yours for a much more palatable price.
There's plenty to like about this monitor: great contrast, clear colour delineation, and great saturation. And while the LG panel does most of the work there, the factory calibrations from Dough did impress our Dave, too.
Not only do you get a pair of HDMI 2.1 ports in the back, there's also a DisplayPort 1.4, as well as nifty USB Type-B and Type-C hub options. It also has DisplayPort Alt mode, meaning you can switch between displaying or charging your laptop via USB Type-C downstream.
Something to be aware of if you're planning to get this one for console gaming, however: the HDR and local dimming aren't great. Despite everything seeming great on paper with a DisplayHDR 600 rating and 750cd/m2 peak luminance, the bottom edge-lit backlight suffers from this ugly rising column bleed effect in high contrast images.
Otherwise this is a fantastic gaming monitor for PC gaming, and now with its $300 discount we can finally recommend you splashing out on it. Time is ticking, and you've got just over five days to make your purchase, from time of posting.