Samsung has dished the details on its latest and greatest gaming monitors for the CES tech show happening now in Las Vegas. The main highlights include the dual-UHD or half-8K panel previewed at the AMD RX 7000-series GPU (opens in new tab) launch, plus a new 49-inch OLED monitor.
Confusingly known as the Samsung Neo G9, just like the Samsung Neo G9 we reviewed back in late 2021 (opens in new tab), which itself replaced the Samsung non-Neo G9, the new monitor clocks in at a massive 57 inches. Sheer size aside, its resolution sets it apart with 7,680 by 2,160 pixels.
That's enough for Samsung to claim this is the "world's first dual-UHD gaming monitor", a welcome shift from the misleading "8K" pitch AMD used when showcasing the display. While the horizontal pixel count is indeed 8K class, the 32:9 aspect ratio means the Neo G9 only has half the vertical pixels of a true 8K panel.
In terms of pixel density, that works out at 163DPI, which is pretty much exactly the same as a 27-inch 4K panel. In other words, this beast is basically two 27-inch 4K panels fused side-by-side.
It's also the first with DisplayPort 2.1 connectivity, allowing 240Hz refresh despite the epic pixel count. Both of AMD's latest graphics cards, the RX 7900 XTX (opens in new tab) and RX 7900 XT (opens in new tab), support DisplayPort 2.1.
Panel tech-wise, the latest Neo G9 retains the LCD and mini-LED backlight configuration from its predecessor.
Intriguingly, Samsung references DisplayHDR 1000 certification and makes no mention of the QuantumHDR 2000 rating it applied to the previous model and never quite seemed justified by that display's real-world HDR performance.
Oh, and this latest Neo G9 sports the same extreme 1000R panel curve as its predecessors. That should be quite a sight on a 57-inch panel. But one thing is for sure. To drive all 16 million pixels at decent refresh rates, you are going to need one heck of a GPU.
Next up is the Odyssey OLED G9 G95SC. It shares the 49-inch dual-QHD (that's 5,120 by 1,440 pixels) form factor of the, er, old Neo G9 but upgrades the panel tech from LCD to OLED and runs a gentler 1800R curve as opposed to the 1000R of both Neo G9s.
Specs wise, Samsung says the Odyssey OLED G9 is good for 0.1ms response and 240Hz refresh. But there's no info regarding brightness, which is arguably the big question mark with any OLED gaming monitor. That said, going by the Alienware 34 (opens in new tab) OLED monitor, which uses Samsung quantum OLED panel tech, we have pretty high hopes for this 49-inch beast.
The Odyssey OLED G9 also gets a built-in app platform with support for the usual streaming suspects including Prime Video, Netflix and YouTube. Perhaps even more intriguing is the Samsung Gaming Hub, an all-in-one game platform that delivers cloud gaming from both Xbox and Nvidia GeForce Now. So, you could watch content and game without plugging the OLED G9 into a PC.
Disappointingly, there's no official pricing or availability info on either display. They definitely won't be remotely cheap. But it would be nice to know when they go on sale.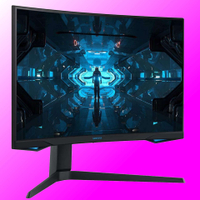 (opens in new tab)