Rockstar has kept us waiting when it comes to news on Red Dead Redemption 2 coming to PC. This feels familiar, after the long, year-plus wait for GTA 5. RDR2 has launched on consoles, and Red Dead Online has launched too, but it's looking less and less likely we'll hear anything official about Red Dead Redemption 2 on PC in 2018.
That said, though, there are reasons to be hopeful about RDR2 coming to PC in 2019. Shortly after the game's console launch, the official companion app was apparently datamined, and it strongly points towards Red Dead Redemption 2's eventual release on PC. This is the best indicator we have so far that the game is coming to PC—scroll down for more details. Take Two's Strauss Zelnick has been asked about a PC release as well, and he gave an evasive response. While it's not that informative, we've collected what he said about Red Dead Redemption 2 coming to PC too.
Below, we sum up what we know about both those stories, plus we explore Rockstar's background of staggering ports on PC to see if we can make an informed guess on when Red Dead Redemption 2 will arrive on our PCs (assuming it does).
Take-Two is asked about Red Dead Redemption 2 coming to PC, but won't commit to anything
During an investor call in early November, Take-Two's Strauss Zelnick was asked about the chances of Red Dead Redemption 2 coming to PC. The answer was a little disappointing, but predictable. "In terms of ongoing releases, Rockstar will talk about what their intentions are going forward with regard to all upcoming products and that the same would hold true for platform. So, in this particular instance, I can't really give you too much clarity, apologies." That means the app datamine leak below remains the best evidence RDR2 is coming to PC.
If Red Dead Redemption 2 is coming to PC, then, we can be certain the news will come from Rockstar itself.
Red Dead Redemption 2's companion app is the best evidence of a PC version so far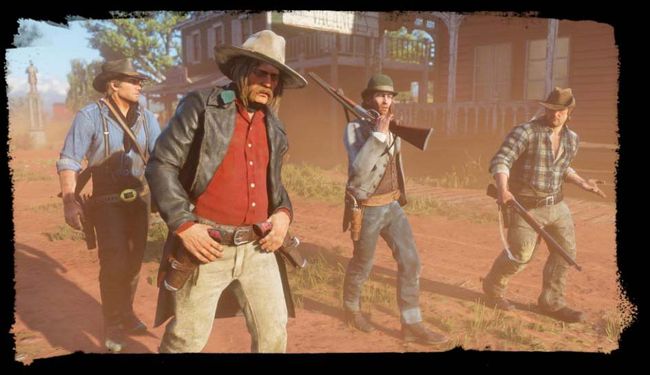 A companion app that launched alongside Red Dead Redemption 2 apparently suggests that a PC version is in the works. As uncovered by Rockstar Intel, parameters in the app seemingly point towards PC graphics options, like anisotropic quality levels, TXAA, particle shadow quality, particle lighting quality, motion blur strength, grass quality, reflections, shadow distance and more. The most telling, though, is this line: 'CommandIsPcVersion(void) 000000000166A12C'.
Reference is also made to Oculus in the parameters, suggesting there might be some VR compatibility if the game comes to PC. Collectively, this is probably the strongest evidence yet that Red Dead Redemption 2 is coming to PC. Fingers crossed we'll find out more about all this soon.
Red Dead Redemption 2 PC briefly appeared on LinkedIn, and a listing appeared on a retailer site

An anonymous Rockstar employee's LinkedIn profile used to list Red Dead Redemption 2 as coming to PC (via VG247), before it was changed. Before the leak above, this was the closest thing to a smoking gun on Red Dead Redemption 2 coming to PC so far. Then again, it could just be an error.
When asked about the possibility of Red Dead Redemption 2 coming to PC last year, Take-Two CEO Strauss Zelnick only had this to say. "Any updates about any of our titles will come from our labels."
Elsewhere on the rumor front, a listing appeared for a PC version of the game on the Dutch retailer Media Markt. It was later revealed, though, that it's just a placeholder. It's hard not to admire their optimism.
Here's the Red Dead Redemption 2 launch trailer, but there's no sign of a PC version yet
While Red Dead Redemption 2 still hasn't been confirmed for PC, you can at least check out Arthur Morgan and a little bit of John Marston in the launch trailer above.
Meanwhile, below you can check out 4 minutes of Red Dead Redemption 2 gameplay:
Here's how long it usually takes Rockstar games to come to PC
- GTA 4 took about seven months to make the jump to PC.
- LA Noire took about six months to arrive on PC.
- Max Payne 3 launched just two weeks after console versions in 2012, but then it's fair to say this was historically considered a PC series.
- GTA 5 arrived 17 months after the PS3/Xbox 360 versions, and five months after the more comparable Xbox One and PS4 versions. It was originally meant to launch about three months earlier, however, in January 2015, and was originally announced alongside the 2014 console versions at E3 2014.
If we were to make an informed guess on when Red Dead Redemption 2 does come to PC, then, history tells us it'll probably be a wait of about five-to-seven months.
A decision on whether to bring Red Dead Redemption 2 to PC has probably already been made. When we spoke to Rockstar North about GTA 5's PC release back in 2015, they said they planned for it from day one. "We were always going to bring GTA 5 to PC."
Why did Red Dead Redemption never come to PC?
Red Dead Redemption never came to PC after its original release in 2010, and Rockstar answered (vaguely) as to why that was the case back in 2011. "All we can say is that whenever it is viable (technically, developmentally and business-wise) for us to release a game for PC (or any other particular platform)—we will and we usually do; unfortunately, that is just not the case 100% of the time for all platforms." That was a long time ago, though, and even at the time the company was bringing LA Noire, GTA and Max Payne 3 to PC.
You have to go back 10 years to find another major Rockstar console game that skipped PC (Midnight Club: Los Angeles).
GTA 5 sold a bucketload on PC, so it's unlikely Red Dead Redemption 2 would skip our platform
GTA 5 has sold over 90 million copies in total, which is an incredible feat. On Steam, it's sold 12,604,123 copies according to recent data released about player counts on Valve's platform. This doesn't include copies sold in physical form or through third-party resellers, however, where the game redeems through Rockstar Social Club, so the actual player count is likely to be a bit higher than that. This makes a pretty good case for Red Dead Redemption 2 to come to PC.
There is an entirely legal way to play the original Red Dead Redemption on PC
Strangely, in lieu of a proper PC release for 2010's Red Dead Redemption, you can stream it through Sony's PlayStation Now service. It's no substitute for having the game in your Steam library, of course, but it's an option if you decided not to drop several hundred pounds on a console eight years ago. It's probably Rockstar's second best game ever after GTA 5, and still holds up pretty well.