It's been seven years since Razer released an updated version of the popular Leviathan gaming soundbar. Gaming soundbars have become less of a novelty and more of a serious addition to PC gamers' audio setups. A couple of them have even made their way onto our PC speakers page over the past year. The Razer Leviathan V2 looks to improve on its predecessor with a couple of design changes.
The Leviathan V2 sits under 20 inches long, can fit snugly under your monitor, and never feels like it's in the way. Even though it's still roughly the same size as the original Leviathan, it is more powerful thanks to the addition of two passive radiators that do a good job of providing more bass than your average soundbar. That's handy in case you don't have the room for a sub-woofer but still want those sweet, sweet thumps.
I was pretty surprised at the overall sound quality of the new V2, considering its smaller size. It's also pretty powerful to boot.
I used it around 25% volume since anything higher would be way too loud. Music sounds great though bass-heavy jams sometimes sound a bit muddy, even with the sub-woofer plugin, which was evident in songs like What's Up, Danger.
At first, I wasn't at all impressed with the default audio settings; it was only when I dove into the audio settings on the Razer Synapse software I found the sweet spot. I found that switching to its "Center Focus" made things better. For the record, Razer Synapse is my least favorite software to manage accessories. However, it was easy to get the settings for the Levithan V2 exactly where I wanted. Here you can also toggle between Stereo and THX Spatial Audio.
Speaking of THX Spatial Audio, I'm not yet a convert to the church of surround sound, but it worked pretty well in a game like Apex Legends, where I was able to pick out the direction of Octane's frantic footsteps in tight spaces. Spatial audio works best in horror games, such as Resident Evil Village, where it adds more to immersion rather than giving you a tactical advantage.
Leviathan V2 specs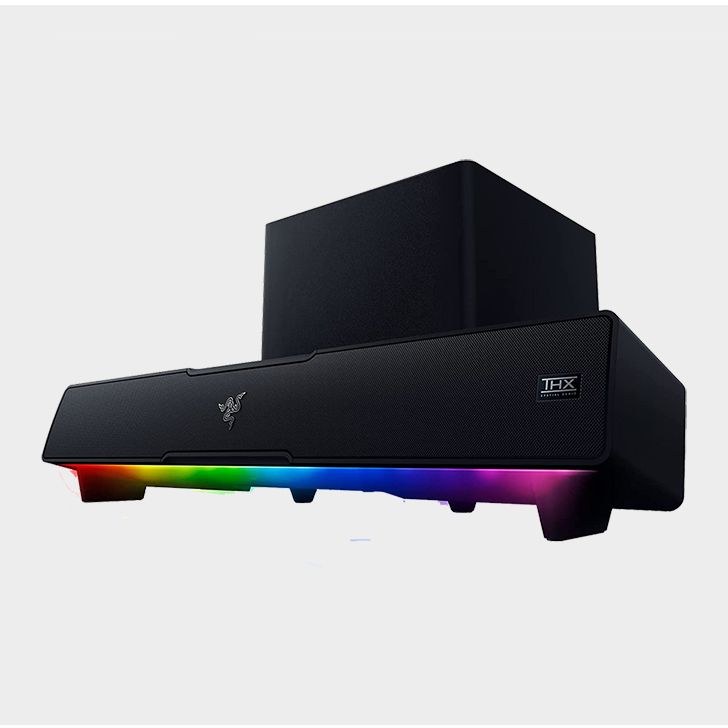 Frequency response: 45Hz - 20,000Hz
Drivers: 2 x Full Range Drivers (2.0 x 4.0"), 2 x Tweeter Drivers (0.75"), 2 x Passive Radiator Drivers (1.7 x 5.3"), Down-firing subwoofer ( 5.5"):
Connection: Bluetooth 5.2 (60ms low latency), USB-Type C
Weight: 3.08 lbs, Subwoofer 6.61 lbs
Price: $249
Dimensions: Soundbar 19.7 x 3.6 x 3.3," Subwoofer: 8.67 x 8.67 x 9.5"
Features: THX Spatial Audio, Razer Chroma RGB
One area where the soundbar excels, it turns out, is live sports. As I am writing this review, I have the Mets and Cardinals game on in the background, and it sounds incredible. I appreciate the rich timbre of the Mets' deep-voiced commentary by Gary Cohen as he calls the game with Mets Hall of Famers' Ron Darling, and the great Keith Hernandez. The sounds of the game, people cheering, the crack of the bat, makes me wish there was an easy way connect this thing to my living room TV, but therein lies the problem.
This PC-only soundbar lacks 3.5mm or optical port inputs. At $250, it makes it a harder sell for someone looking for a speaker to plug in their consoles or television in addition to their PC. Honestly, I wouldn't blame you if you went with the older model Levithan because it has all the ports you want, and it's still at least $50 cheaper than the V2. I really would have loved a wireless subwoofer just because I really can't bear the sight of seeing more cables get knotted up behind my desk.
I own a pair of Razer Nommos that flank my monitor, and it was nice to get the extra space on my desk back to fill with clutter and snacks. I've also used the LG Ultragear gaming speaker, which I consider the gold standard for gaming soundbars because of its insane amount of features, but then that costs almost double what the Leviathan V2 costs.
As far as dedicated PC speakers are concerned, there's a lot to like on the Razer Leviathan V2. It's a small, powerful soundbar that's easy to use, and it looks great on your desk. Connecting devices via Bluetooth and goofing around with the RGB was painless, which is the best thing I can say about Synapse, so good job, Razer. The real knock against it is that it's not as versatile as other soundbars out there at this high price range.