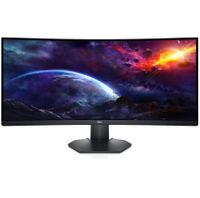 Dell 34 S3422DWG | 34-inch | 1440p | VA | 144Hz | $499.99 $349.99 at Dell (save $150.00)
Big screen gaming without the hefty price tag, not only is this 1440p Dell an excellent value for the money, it's all-around image quality is strong. Our only problem with it is its lackluster HDR support.
Price Check: Amazon $350
Dell has a fantastic deal on a 34-inch curved gaming monitor priced at $350. This offer provides a $150 discount from its regular price, making it the most affordable it's been since its launch in 2021. It's a good choice if you're to immerse yourself into your work or games fully but want to avoid paying fully immersive pricing.
Although the Dell S3422DWG is a few years old, it remains a solid gaming monitor. It features a 34-inch curved ultrawide display with 1440p resolution and a fast 144Hz refresh rate on a VA panel. Moreover, it offers a wide color gamut and strong peak brightness, making it suitable for gaming in bright rooms where you need to see details in dark environments, such as those dark and dingeyDiablo IV dungeons.
I used the S3422DWG as my monitor when it launched in 2021 for about a year. What I like about it is that it's packed with tons of image customization settings and features like Picture-in-Picture and Picture-by-picture. You've got a quick 1ms response time (just check the Overdrive setting in the options).

It also lacks that gamer aesthetic. There are no RGB or funky-looking stands, which could be a deal breaker, depending on your vibe.
However, my only significant issue with this monitor was its subpar viewing angles. To ensure an optimal viewing experience, position it dead center on your desk, as the image might appear distorted otherwise, especially since the monitor lacks swivel functionality.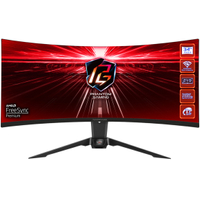 ASRock Phantom PG34WQ15R2B | 34-inch | 165Hz | 3440 x 1440 | VA | $379.99 $294.99 at Newegg (save $85 after rebate)
You can't beat a high-refresh 34-inch ultrawide gaming panel in terms of bang for the buck, and ASRock gives you that particular bang for less buck than ever. As we found in our review, this 1ms 165Hz VA panel has no major weaknesses and makes for a really nice overall package for the money.
While the $350 price for the Dell monitor is the lowest it has ever been, there is an even cheaper alternative if you're interested in a large curved gaming monitor. The ASRock Phantom Gaming 34-inch monitor (check out our ASRock PG34WQ15R2B review) is available for $294 after a rebate and is a great option for those looking to save money. Just take the time to adjust the settings properly to achieve the best visual performance.
Also, remember to check out our best Amazon Prime Day PC gaming deals page throughout the week. We will highlight all the best bargains for everything PC gaming.