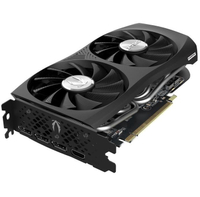 Zotac RTX 4070 Twin Edge | 12GB GDDR6X | 5888 shaders | 2,475MHz boost | $549.99 $519.99 at Newegg (save $30 using promo code TECCX24337)
Nvidia's mid-range Ada Lovelace graphics card is often discounted these days but this is the cheapest deal at the moment, as long as you use the promo card. What you're getting for your money is a GPU that's as fast as an RTX 3080, but uses far less power and runs much cooler. Plus you also get to try out all of the latest DLSS 3.5 upscaling and frame generation technology. Perfect for Alan Wake 2, which also a free gift with this purchase!
RTX 4080 price check: $549.99 Amazon | $529.99 Walmart
The GeForce RTX 4070 sits squarely in the middle of Nvidia's 40-series of GPUs, with only the RTX 4070 Ti, RTX 4080, and RTX 4090 being faster. However, it's by far the best one of the lot, as it offers lots of performance for the money.
Unlike many of its brethren, this Zotac Twin Edge model uses a fairly standard size cooler. Underneath it is an AD104 graphics chip, sporting 5,888 shaders, with a boost clock of 2,475MHz. With a total graphics power of 200W, it runs pretty cool for such a powerful GPU.
If you're upgrading from an older graphics card, note that all RTX 40-series card use the 12VHPWR cable for power. Since this RTX 4070 uses relatively little power, you shouldn't experience any of the problems that some RTX 4090 owners have, regarding the cable overheating.
It terms of new graphics features, the RTX 4070 fully supports ray tracing and DLSS 3.5, which comprises an AI-power upscaler, frame generator, and ray denoiser. In games that use these, you can enable them to get better performance, without having to lower quality settings.
If you don't care about ray tracing, then there are better value cards on the market, such as the Radeon RX 6800 XT, which does perform a lot better in standard rendering, albeit at a higher power cost.
As that's a last-gen graphics card from AMD, stocks of them might not be as good as those for the RTX 4070, so it's worth checking out our graphics card deals page to see what's available.