What we've learned from Kickstarter's biggest successes and failures
Beyond a lack of trust for our fellow man, what has Kickstarter taught us about crowdfunding and game development since its creation? I took a look at a broad spectrum of projects—from tragic failures to wild success stories, but all funded—to get a sense of Kickstarter's contribution to PC gaming so far. The games I've picked out aren't definitively the best and worst examples, but all embody aspects of development from which future campaigns and contributors might learn a thing or two. We'll start with the successes, first defining what that means here, and then do the same for the failures.
For the purposes of this piece, success as a Kickstarter isn't defined by blowing past a funding goal (though many did) or amount of time spent in the hype spotlight. I've chosen success stories based on how well they approximate the dream of Kickstarter: that it frees small developers from big publishers, giving them the money they need to make bold new games or rejuvenate niche genres while answering only to interested players.
​Neverending Nightmares
Campaign Page
Initial goal: $99,000
Total raised: $106,722
Pitch: "Neverending Nightmares is a psychological horror game inspired by the real horror of [developer Matt Gilgenbach's] battle with obsessive-compulsive disorder and depression."
Why it's a success: The game may not stand out in the haphazard Kickstarter canon, but the direction was clear, communication was constant, it came out within a reasonable timeframe, and from an outside perspective, Infinitap fell within the constraints of their budget. Neverending Nightmares is one of few Kickstarters to deliver on the majority of its original intent.
For better or worse, the sensationalism of a wildly successful Kickstarter often leads to more press coverage —Look! There's somebody climbing that tree! And they have no pants on!—so Neverending Nightmares didn't become a chart-topper.
Sales aside, it's a strikingly earnest horror game (think It Follows, The Babadook) about depression that didn't parrot others within the genre, and it likely wouldn't exist if not for Kickstarter. I'm glad to see Infinitap is giving it another shot with Devastated Dreams.
What we can learn: A Kickstarter, given the right planning, ambition, and stretch goals (if any), can be done. It might just take a sober mind.
Project Eternity (Pillars of Eternity)
Campaign Page
Initial goal: $1,100,000
Total raised: $3,986,929
Pitch: Make a game that "aims to recapture the magic, imagination, depth, and nostalgia of classic RPGs."
Why it's a success: Obsidian chose to develop a game that was strictly in their wheelhouse. Design lessons learned from the last decade or two of game development would find a way into Pillars of Eternity, but without talking down to players of complex RPGs of yore. This was something they knew how to make, and didn't rely on the breathy, pseudo-transcendent whispering that plenty of other Kickstarter campaigns used to draw an audience. This would be an old school RPG, not a revolution in game design. And that's exactly what players wanted.
Despite a series of delays, most backers ended up pretty pleased with the final game. They'd been waiting a long time already for an ode to Infinity Engine RPGs, so what was a few more months?
Luckily for many, Pillars of Eternity delivered on the promise to channel the same dedication to tactical combat and deep, RPG storytelling that was made gaming canon in old Infinity Engine RPGs.
What we can learn: Everyone loves a stalwart spiritual successor. Backers will forgive delays, so long as communication remains steady and honest.
​Double Fine Adventure (Broken Age)
Campaign Page
Initial goal: $400,000
Total raised: $3,336,371
Pitch: "[A] small team under Tim Schafer's supervision will develop Double Fine's next game, a classic point-and-click adventure. Where it goes from there will unfold in real time for all the backers to see."
Why it's a success: By most accounts, the Double Fine Adventure campaign was an absolute mess. It went over budget multiple times, was delayed years, and to compensate it got put out on Early Access, awkwardly forced into two parts. But in the end, Tim Schafer and co. delivered the game they promised, all the while dealing with aspects of Kickstarter development others had yet to encounter. Inching the campaign into 'success' territory was the decision to let everyone watch their struggle.
Folks often forget that Broken Age was only part of the Kickstarter's promise. The other major component? An incredible, honest documentary series that pried off the lid on Broken Age's creation for a full on voyeuristic development dance. Two Player Productions dug into the trenches at Double Fine for over three years to put out an episode every two months or so. No aspect of development gets washed out in favor of the traditional PR carapace—budgets are debated, creative sacrifices are made, and most painfully, people lose their jobs.
The documentary does what no PR in my memory has ever come close to: it humanizes the developers. These people working for less pay than a big studio, long hours, and with no small amount of heart to make something meaningful. Broken Age isn't flawless, but the game stands out in my memory, if only because I witnessed a sliver of the immense work that went into it. I was bummed to see the game delayed so much and broken into two halves, but as a direct result of the DFA documentary, I found it much easier to remember the people working hard behind the scenes. And as a player of their games, the doc helped me learn to quell my nostalgia and keep expectations realistic.
The DFA is one hell of a reminder that it's an outright miracle most games exist at all.
What we can learn: Double Fine didn't make the greatest adventure game of all time, but they opened up the process to the public like no developer has before.
FTL
Campaign Page
Initial goal: $10,000
Total raised: $200,542
Pitch: Make a game that features "a blend of exploration, discovery, ship management and real time strategic combat that creates an experience quite unlike other games in its genre."
Why it's a success: FTL is emblematic of Kickstarter's promise to offer a space where developers can pitch original ideas directly to the consumers. FTL proved there was a thirst for a specific kind of game that might otherwise never come to fruition; just look at how a few small, relatively unknown developers blew beyond their initial funding goal. Perhaps most important, was that the developers had something to show backers immediately. A rock solid idea and demo were in place, rather than just a series of appealing concept images and interesting bullet points.
What we can learn: One of Kickstarter's first huge indie success stories, FTL showed that was more out there, even if its success might be harder to replicate in a more crowded market today. FTL also underlined the importance of having something to show potential backers beyond concept art and exclamation point addendums!
Darkest Dungeon
Campaign Page
Initial goal: $75,000
Total raised: $313,337
Pitch: Create "a fresh take on the dungeon crawler that elevates the importance of sound tactics and a character's mental state over their gear."
Why it's a success: The concept riffed on an established genre—so there's an inherent familiarity from a design and player perspective—which anchored the game's more experimental, hazy ideas and kept the project from floating away during development. It doesn't hurt that the developers have been putting out consistent updates to the game, all the while keeping backers and players informed alike.
Darkest Dungeon is still only an Early Access release, but we can confirm it's already pretty good.
What we can learn: Keep ideas lofty, but don't reinvent the video game wheel in a Kickstarter pitch.
Kick-farters
A Kickstarter failure is much easier to identify. As it turns out, game development is really, really hard. The entire process, from pitching to production, is fraught with bottlenecks that can bring the whole house down on a whim. As it turns out, most of these bottlenecks are not unique to Kickstarter games. However, due to the openness of most projects, the public perception is keen to attribute their seemingly shaky nature to Kickstarters exclusively, instead of game development as a whole.
GODUS
Campaign Page
Initial goal: £450,000
Total raised: £526,563
Pitch: "GODUS blends the power, growth and scope of Populous with the detailed construction and multiplayer excitement of Dungeon Keeper and the intuitive interface and technical innovation of Black & White."
Why it's a failure: Peter Molyneux gets a lot of flack. He's a creator, an idealist. So am I! And an idealist should avoid the press if they can't control their enthusiasm (I once told my brother that I would find a way to bring Pokemon into the real world without really hashing out the details) but the GODUS Kickstarter wholly embraced Molyneux's trademark achilles heel and ran with it. Way too far, apparently.
A return to the glory days of the God game were promised. What we got was a buggy, incomplete, mobile-leaning game full of microtransactions.
What we can learn: Ambition is good, but not without clear goals, and despite Kickstarter's ability to dissolve the middleman, a certain amount of PR and marketing control can't hurt a damn thing.
Yogventures
Campaign Page
Initial goal: $250,000
Total raised: $567,665
Pitch: Build an open-world, multiplayer, sandbox game that "will allow you to create and shape worlds, then easily share them and play with friends!"
Why it's a failure: After a clerical error let an artist rightfully move on without finishing their work, money in tow, everything went downhill. Once Yogscast folks found out, they asked for all remaining Kickstarter funds get transferred to them from the devs. It didn't go smoothly. Yogventures' final update details the cascade of kerfuffles that led to the project's ultimate demise. But without much muscle behind the bullet points, Yogventures didn't have much promise from the get-go, despite a very successful campaign. There's just way too much going on here: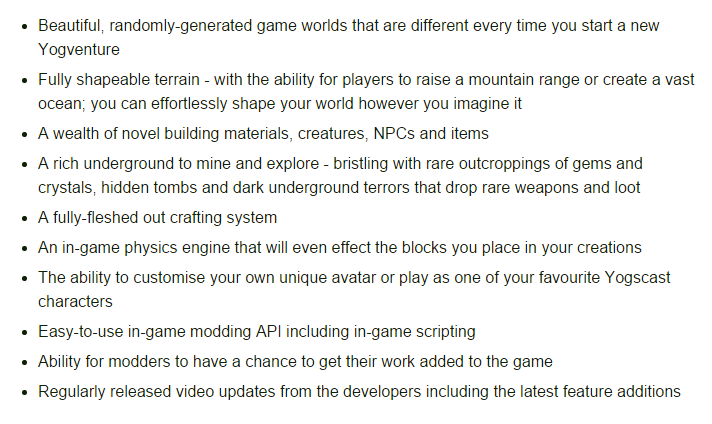 It's hard to say exactly what the game would be had everything turned out alright, but the Yogscast failure is a reminder of how fragile development can be: naivete, a lack of rock-solid contracts, and poor management can topple a game in no time.
What we can learn: Kickstarter allows us to send ships out that aren't seaworthy. It's hard to tell what kind of managerial integrity a project might have from the perspective of a googly-eyed backer and a few excited paragraphs.
Code Hero
Campaign Page
Initial goal: $100,000
Total raised: $170,954
Pitch: Make a game "that teaches you how to make games so you can learn to code while you play with a Code Gun that shoots Javascript in Unity 3D!"
Why it's a failure: After releasing a beta build of Code Hero in 2013, the developers have largely gone silent. Social media accounts are inactive, the website has been on and off sporadically, but nothing concrete has emerged for years. Why? What happened? Too much was promised too quickly.

This is not how budgeting works. While Code Hero is certainly not the only Kickstarter to throw up hopeful imperatives in the final hours of a campaign, language like this is what quickly throws expectations and realities into opposite directions.
What we can learn: Budgeting for games is hard. Development is done by genuine, inherently-flawed people and can get held up by any number of snafus. Informing backers of those snafus sooner than later might have a better effect on forgiveness and reputation, but backers should also remember that they're putting money into faith, not promises.
CLANG
Campaign Page
Initial goal: $500,000
Total raised: $526,125
Pitch: Develop a game and control method for sword-fighting that aligns with historical practices.
Why it's a failure: CLANG waded too far into idealism. Rather than pitch a solid idea, it hooked backers on a nebulous promise to "build something that will enable players to inhabit the mind, body, and world of a real swordfighter." Sounds great, right? But the campaign ended up just being an endless series of updates on prototype after prototype without any meaningful developments. Even with a trusted personality at the helm, acclaimed author Neal Stephenson, the project ultimately fizzled into a series of disparate, aimless updates. Before it was all over, a 'final' prototype was delivered and some rewards went out, but Neal admits he "probably focused too much on historical accuracy and not enough on making it sufficiently fun to attract additional investment."
What we can learn: Historical accuracy doesn't necessarily equate to fun, and developing motion controls is very difficult, especially under scrutiny by anxious backers.
Are we Kick-smarter?
So, after a few years and an explosion of campaigns, what has Kickstarter taught us about itself and game creation? Did we get what we hoped for? Let's recap.
—It isn't a fad. Shemue 3 just set a new record.
—Game development is hard.
—Kickstarter brought back old franchises and new games that wouldn't find publishers otherwise.
—Successes and failures alike taught us about game creation. Whether or not folks have taken note is another story.
—Game development is HARD.
—Stretch goals are carrot-shaped daggers on a stick. The carrot-dagger just distracts from where the game is actually headed and may or may not hurt someone.
—A lot of people still don't understand that they're funding ideas, not promises. Kickstarter rewards are often presented as pre-orders, but when a project fails to deliver, there's no legal obligation on the dev's part to deliver anything. It's a massive bummer, and somewhat deceitful to excited backers.
Personally, my biggest takeaway from the last few years of Kickstarters is that we're only now becoming privy to true blue game development. Problems that appear inherent to crowdfunding usually manifest elsewhere in development communities, it's just the wall of PR between traditional developers and players that blur realities and maintain a Stepford Wives projection of Platonic, ethereal, incandescent Game Creation.
Of final note is that Kickstarter hasn't delivered game development from funding problems. It only allows for niche projects to potentially find an audience. Plenty of creators are still struggling to find a way to wiggle into an increasingly crowded market, but Kickstarter's role is anything but static. Here's to another few years of throwing money at spiritual successors, space sims, and singularities.