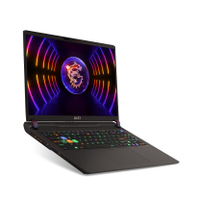 MSI Vector GP68HX | Nvidia RTX 4080 | Intel Core i9 12900H | 16-inch | 1080p | 144Hz | 16GB | 1TB NVMe SSD | $2,099 $1,699 at Newegg (save $400)
A 175W RTX 4080 laptop for $1,699? Where do we sign up? This MSI 16 incher has a last-gen Intel CPU. But it's still a monster chip. The rest of the specs are decent, too, including 144Hz refresh, Thunderbolt 4, 90Whr battery and a per-key RGB SteelSeries keyboard.
Remember when the Nvidia initially rolled out its new RTX 40 Series laptop GPUs and every gaming portable with an RTX 4090 cost like $4,000 but it turned out that the RTX 4080 laptop GPU could sometimes actually be faster?
It mostly comes downs to wattage. In other words, you can have a theoretically higher spec GPU, but if it's limited in terms of the power it can draw, the whole things falls apart.
Well, now you can get that RTX 4080 laptop chip in full 175W spec for just $1,699. So, yeah, the MSI Vector GP68HX has a 175W Nvidia RTX 4080 mobile GPU that will likely be faster than some RTX 4090 laptops costing far more. And it's yours for $1,699 on Newegg.
Other spec highlights include a generous 16-inch 1080p IPS screen running at 144Hz, 16GB of RAM and a 1TB SSD. Oh and the CPU is an Intel Core i9 12900H.
OK, that's a last-gen CPU. But it was a top spec chip at the time with eight Performance- and eight Efficient-cores, and remains an absolute beast of a mobile gaming CPU.
The RTX 4080 is also complomented by a MUX switch, which means performance isn't compromised due to routing the display output through the Intel CPU's integrated GPU. Huzzah. But you do get some odd flickering when it does switch between the two. Slight boo.
There's plenty of connectivity, too, from high bandwidth USB-C with DisplayPort Alt Mode to another USB-C port with Thunderbolt 4 support, HDMI 2.1, an SD card reader and Ethernet.
Heck, even the battery is pretty beefy at 90Whr, just under the maximum 100Whr limited allowed on passenger jets in the US. We also like the look of the full per-key RGB keyboard engineered by SteelSeries.
All told, it's an awful lot of portable gaming hardware for the money.