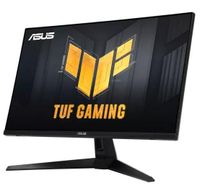 Asus TUF Gaming VG27AQA1A | 27-inch | 170Hz | 1440p | VA | $249.99 $179.99 at Newegg (save $70)
For the budget-conscious gamer, Asus makes a mean gaming monitor. This screen may be cheaper, even costing less than some 1080p panels we've seen in the past, yet it delivers 1440p resolution gaming with a 170Hz refresh rate (overclocked). Not too shabby. Newegg is also offering a mail-in rebate for another $10 off.
Price check: Walmart $179.99
Just because Black Friday isn't quite here yet, it doesn't mean that retailers can't get in on the action early. For instance, Newegg is offering an impressive discount on a 27-inch, 1440p TUF Gaming monitor priced at just $200.
The Asus TUF Gaming VG27AQA1A was already competitively priced at $250, so an extra $70 off is a nice incentive. It also makes it very close to the same price as some of the best 1080p Black Friday gaming monitor deals we've highlighted so far. And cheaper than some of the other 1440p displays on sale now.
This 27-inch WQHD (2560 x 1440) monitor boasts an overclockable refresh rate, peaking at 170Hz (144Hz standard). Additionally, it features a 1ms response time and supports both HDR10 and FreeSync, though it is also G-Sync compatible.
I've used one of these monitors as a secondary display at our previous office. Surprisingly, for its price point, it offers decent ergonomics. The monitor can switch between landscape and portrait orientations and provides a 5-inch height adjustment. I really liked its image and color quality, making my frequent traverses through Google Sheets less dreary.
However, my minor gripe with this monitor was its lackluster contrast. The blacks often appeared more gray than truly black. Nonetheless, if you're in the market for a reliable secondary monitor or considering an upgrade from 1080p to 1440p, this TUF Gaming monitor is an excellent choice.
For those wanting a larger display without breaking the bank, Amazon features a 32-inch curved Gigabyte monitor with similar specifications for just an additional $54. This model also includes handy quality-of-life features, such as KVM, allowing users to connect a keyboard and mouse directly to the monitor for use across multiple devices.