Sennheiser has been a long-standing name in the realm of audio excellence, and today you can grab one of its awesome gaming headsets, the GSP500 at Amazon for just $145. That's $35 off the previous price, and $85 below the original MSRP.
This open-back design offers superb comfort and situational awareness without sacrificing sound quality and the 3.5mm audio jack provides compatibility for both PC and consoles, just what you'd expect from some of the best gaming headsets available.
By the numbers, the GSP500 represents just about the best listening experience you can get with a gaming headset, featuring a dynamic acoustic design, 28 Ohm impedance, and a 15-30K Hz frequency response. A small knob on the right side of the headset allows you to fine-tune your volume. All of this is topped off with an integrated, noise-cancelling boom mic that can be quickly muted by shifting it upwards. The sound quality on the microphone is easily one of the best headset mics we've ever tested, with a robust and clear sound signature. A minor complaint is that the mic can't be detached from the headset like the Beyerdynamic Custom gaming headset.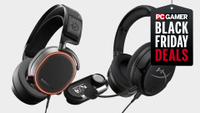 Gaming Headset deal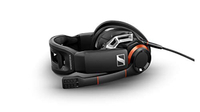 The oversized, NASCAR crew chief aesthetic may not appeal to everyone, but these are by far one of the most comfortable headsets I've ever used, remaining comfortable even after hours of use while wearing glasses as well. While Sennheiser may not be the first name that comes to mind when you think about gaming headsets, the sound quality and durable form factor of the GSP500 are undeniable.