Thinking of picking up a new SSD for your build? Also thinking of picking up the rather excellent The Division 2? Well, it's your lucky day because eBuyer in the UK is giving out a FREE copy of the shooter with every 500GB Samsung EVO 860, which is selling for £85. So, here's how this deal breaks down. You can pick up the 500GB EVO 860 for £75 at Amazon right now, which is £10 less than at eBuyer. However, by getting The Division 2 for free you're actually saving a decent wedge of cash. If you bought the two together right now, you'd pay £118 in total. The Evo 860 is one of our best SSDs for gaming so it comes highly recommended. Here's the eBuyer deal, where you get the SSD + the game: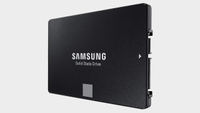 For a bit more context, the cheapest we've ever seen the 860 EVO 500GB in the UK is £63 during Black Friday of 2018, which is a damn good price. However, the cheapest we've found The Division 2 is still £40, so even if you were the savviest of bargain hunters you'd still have paid £103 for the pair at their absolute cheapest. Sure, you may want a new SSD and not The Division 2. That's cool. You may also just want The Division 2 and no new SSD. Also fine. But for anyone who needs both? It's party time. Unless you can't spare £85 right now, in which case it's like being the kid who wasn't invited to the cool party, even though you can hear the thudding bass beat playing a couple of streets away, and you're sat at home playing Monopoly with your Gran. For an even speedier drive, of course, check out our best NVMe SSD buying guide.
Some online stores give us a small cut if you buy something through one of our links. Read our affiliate policy for more info.