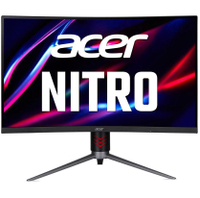 Acer Nitro XZ323QU | 32-inch | 1440p | 240Hz | VA | FreeSync Premium | $449.99 $299.99 at Newegg (save $150)
If you're chasing high frame rates and still want some degree of high fidelity, this 1440p panel is for you. It's rocking a 240Hz refresh rate with AMD's FreeSync supported to keep everything silky smooth. It's big, too, though 32-inch is pushing the 1440p resolution on pixel-per-inch.
Price check: Best Buy $349.99
When it comes to PC hardware decisions, it doesn't get more subjective than monitor choices. For some, only the highest resolutions will suffice, while for others it's all about color reproduction. But for a chosen few, a high refresh rate is key. If you find yourself belonging to this happy tribe, and happen to be looking for a larger screen on a tight budget, then this Acer Nitro monitor may be just the thing you need.
The Acer Nitro XZ323QU X3 packs a multitude of features into a rather svelte 32-inch frame, including a 1440p resolution 31.5-inch panel, a 240Hz refresh rate, FreeSync Premium, Anti-glare coating and a 1000R curve. Quite a good feature set, we think you'll agree, especially as Newegg currently has it listed for $300, a whopping $150 off its MSRP.
Round the back you'll find all the usual suspects for connectivity options, including a DisplayPort 1.4 input and two fully-featured HDMI 2.0 ports. The rather attractive stand has plenty of tilt, swivel and height settings to make sure you make the most of that immersive curved panel.
It's worth pointing out that buying a screen this big and fast at this price point means you are looking at a VA panel with the usual caveats involved, so it would be fair to expect the odd bit of ghosting in comparison to some of the more expensive IPS options. However, with an advertised 1 ms - 0.5 ms GTG response time, the Acer Nitro is certainly well-specced in comparison to just about everything else you can get for this sort of money and size. The HDR 400 support is perhaps less than ideal, but given that HDR remains something of a mess in general it is perhaps somewhat forgivable given the huge discount on offer here.
If bang for your buck is the goal and a large screen size and high refresh rate are your priority, we definitely think this monitor is well worth a look at this price. It might not be the be-all and end-all when it comes to large high refresh rate displays, but it's certainly got a lot to offer for the cash.