The Epic Games Store is aggressively challenging Steam with exclusive games, free giveaways and an attractive revenue split for developers. At the same time, it's also far behind the features Steam has built up over the years, like cloud saves, Big Picture mode, mod workshops, and heck, a basic shopping cart. Epic is playing catch up.
Epic is being pretty transparent about the Epic Game Store patch process, which means we have some idea of what's coming, and regular patch notes alongside updates. We're going to keep track of those patches here, to stay abreast of bugfixes and new features as they arrive.
Here's the Epic Games Store's patch notes for July 2019 so far.
Epic Games Store patch notes - July 10 2019
Epic Games Store Web 4.21.8
Support for the improved messaging contained in Epic Games Store Client 10.2.5
Epic Games Store Client 10.2.5
Improved messaging around patching, notifying users when they are experiencing sub-optimal patching due to limited disk space.
How the Epic Games Store roadmap works
The most important thing to know about the Epic Games Store's patch process is that they've got an entire roadmap dedicated to the work they're planning: Epic Games Store Roadmap Trello.
Don't know what Trello is? It's one of those fancy workflow management tools. Tasks are listed as cards that contain info and assets for a project, and cards get moved around to different columns to indicate how far along they are.
The Epic Games Store Trello is organized into columns for work on features coming soon, features several months out, and features planned for the more distant future.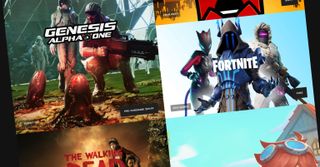 What's coming near-term? (1-3 months)
Ubisoft titles require large installs (Target: July)
Brazilian currency support (Target: July)
Library improvements (Target: July)
Cloud saves (Target: July)
Store video hosting (Target: July)
Store page redesign (Target: July)
Improvements to offline mode (Target: July)
Improved patch sizes (Target: July)
Player play time tracking (Target: July)
Humble Bundle integration (Target: July)
What's coming mid-term? (4-6 months)
User reviews
Wishlists
Newsfeed and follow improements
Price adjusting bundles
Additional payment methods
Additional currencies
Mod support for games
Epic Games overlay
What's coming long term? (6+ months)
Achievements
Shopping cart
Direct carrier billing
Social overhaul
What's TBD?
Automated refunds
Gifting
Android store