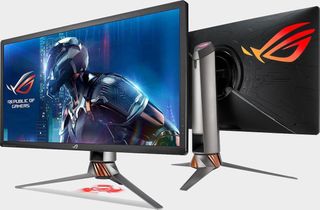 If you're looking to upgrade your monitor, Black Friday and Cyber Monday is the perfect time to go shopping. Electronics see the biggest discounts during the holiday shopping season, and because there is so much new and improved technology at play in the display sector, there's really no better time to buy a new monitor than in the coming weeks.
We're now far removed from the days when a 30-inch monitor with a 2560x1600 resolution IPS panel represented the pinnacle of display technology. By today's standards, older premium monitors like Dell's UltraSharp U3011 are nothing to get excited about. Display makers have upped their game with faster refresh rates, G-Sync and Freesync support, and high dynamic range (HDR) capabilities, among other features that were not commonplace several years ago.
If the last time you bought a monitor was when CompUSA was still around , you're missing out on what more recent releases have to offer, such as higher native resolutions. The monitor market is ripe with 1440p and 4K displays, and if you have the hardware to game at either of those resolutions, it can make a big difference. If not, there are still plenty of 1080p displays too.
In general, it's also easier to find a monitor with great image quality at a reasonable price than it was just a few years ago. The same goes for ultrawide displays—monitors with a 21:9 aspect ratio are somewhat more common these days. Simply put, there are more choices than ever, and Black Friday presents an opportunity to grab one for below the MSRP.
To see what's been happening in the monitor space as of late, read our reviews:
What to expect from monitor deals on Black Friday and Cyber Monday
Black Friday and Cyber Monday have sort of morphed into one long holiday shopping season, rather than wholly separate events. Some deals are specific to one or the other, but for the most part, there is a constant rotation of bargains starting before Thanksgiving and running through at least the following Monday, sometimes longer.
Vendors typically leverage the holiday shopping season to clear out older inventories. It's rare to see a brand new product go on sale, so we don't expect there to be any significant discounts on monitors like the Asus ROG Swift PG27UQ or Acer Predator X27, the pair of 4K 144Hz monitors with HDR and G-Sync support (everything but the kitchen sink, in other words). At around $2,000 a pop, there's a limited audience for those models anyway.
That said, we do expect to see deals on 4K monitors in general, and to some extent, HDR displays as well. We also anticipate deals on monitors supporting AMD's first generation Freesync technology. AMD has been pushing an updated 'Freesync 2 HDR' certification, so vendors will likely look to clear room for newer models.
One in particular to be on the lookout for is Asus's MG279Q. We consider this to be one of the best Freesync gaming monitors out there. It's a 27-inch monitor with a 2560x1440 resolution and 144Hz refresh rate.
Last year we saw discounts on a range of monitors, including a 7 percent savings on the Asus ROG Swift PG279Q, a 27-inch 1440p monitor with a 144MHz (overclocks to 165MHz) refresh rate and G-Sync support.
Early Black Friday 2018 monitor deals
Upcoming Black Friday monitor deals
Best Black Friday monitor deals from last year