With more VR news rolling out seemingly daily, it's a great time to be shopping for the best VR headset. Just today, Facebook announced that they were adding yet another HMD to the Oculus family, this one dubbed the Oculus Rift S, an iteration of the base, PC connected Rift with inside-out tracking and a better display. The S pairs with their standalone headset, the Oculus Quest, which will launch at the same time and at the same price point, $399. Add to this the announcement that HTC is launching their Viveport Infinity subscription service on April 2nd, which will provide a library of over 600 games and apps for $12.99 a mont (or $99 a year) on HTC HMDs as well as competitor's offerings, like the Rift. It's an exciting time to be enthusiastic about VR, and the future looks bright.
So if you want to be ready to dive right in to those 600 titles, how do you find the best VR headset available right now? The first major concern is, of course, budget, and it's a little more complicated than how much the HMD hardware itself costs. If you're going to get something like a Rift, you'll also need a pretty solid PC to attach it to (check out our best gaming PC roundup for some suggestions and deals). If you're looking to save some cash, though, and don't necessarily need the best VR technology available, consider something like the Oculus Go, which is priced at a very reasonable $199 and is completely standalone. At the opposite end of the spectrum, particularly if you've already invested in a solid PC, the Vive Pro offers the very best VR experience available (and is regularly on sale).
When you do decide to plumb those vast, virtual frontiers,
If you do decide to grab a new gaming PC to fuel your VR journey across those virtual frontiers, be sure you've got the best gaming keyboard and best gaming mouse to plug into it.
Best gaming PC | Best gaming mouse | Best gaming chair
Best CPU for gaming| Best wireless gaming mouse | Best wireless gaming keyboard
Oculus Rift
The best VR headset today
Display: OLED | Resolution: 2160 x 1200 | Refresh Rate: 90Hz | Field of View: 110 degrees | Controller: Oculus Touch, Xbox One Controller | Connections: HDMI, USB2.0, USB3.0
Better perceived resolution than Vive
Touch controllers come bundled
Now $399
Roomscale size not as big as Vive's
We can pretty much thank Oculus for making VR a reality. With Facebook snapping up the startup for $2 billion, Oculus has a huge war chest with which to position itself as the vanguard of VR. The Rift headset is the most polished VR headset on the market today, and really demonstrates how far along we've come in bringing VR to the mainstream, but we're not quite there yet, and neither is Oculus.
After a lengthy initial period of limited tracking and VR tethered to traditional controllers, Oculus released its superb touch controllers, which truly elevate the headset above its competition. Compared to the clunkier Vive controllers, the Touch controllers are miles ahead in terms of comfort and immersion, and they and full motion tracking sensors are now bundled in with the Rift by default, a package you can now routinely find at a consumer-friendly $349 price point.
The Rift headset is one of the best examples of a finished consumer VR product that we have, besting the HTC Vive by dint of its design. It wears lighter than the Vive, fit and finish are top-notch, and you can comfortably strap yourself in for several hours. The Rift is only slightly marred by a smaller face frame—it fits tighter around your eyes, and is a pain in the butt to use if you wear glasses. While the premium tier Vive Pro is undeniably king in terms of comfort, particularly across lengthy play sessions, it's also more than double the price of the Rift, and with the accessories and controllers goes for well over the $1,000 mark.
In terms of content, Oculus has a leg up on HTC with a bigger library of games and more coming. Facebook's huge investments into developers means that the company is in VR for the long haul. The Rift dashboard is also a bit better than SteamVR, easier to set up, and has already seen a number of welcome refreshes that include some significant changes to the UI. When you factor in the price difference between Oculus and the Vive Pro, it's hard to justify the massive gulf in pricing.
The Oculus Go is an interesting first foray into standalone VR, but unfortunately it's not really equipped (or being marketed) to play more demanding games. It's library is to the Rift and Vive as mobile games are to their console brethren, and it's mostly being sold on the strength of its virtual screening room offerings. The forthcoming Oculus Quest, on the other hand, is an intriguing proposition that is also completely standalone and promises more power than its forebear at around the price of the Rift; we'll have more coverage of it available just as soon as we can get our hands on one.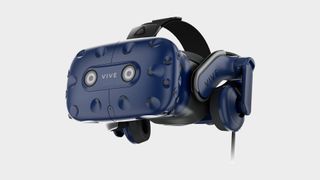 HTC Vive Pro
The best high end VR headset
Display: AMOLED | Resolution: 2880 x 1600 | Refresh Rate: 90Hz | Field of View: 110 degrees | Controller: Vive controller, any PC compatible gamepad | Connections: HDMI, USB2.0, USB3.0, Wireless (with adaptor)
Best room-scale VR experience
Most comfortable VR headset we've tried
Expensive
No controllers or sensors
Right now there are two major players for VR headsets for the PC. No one else has demonstrated products that are consumer ready other than HTC and Oculus—except Sony with its PSVR headset, but that isn't for the PC (at least until modders get their hands on it).
While both headsets hold close positions in our hearts, Oculus made all the difference by bundling its headset with the Touch controllers and dropping the price significantly. This was the deciding factor in choosing the Rift over the Vive as our new preferred headset.
The games helped, too. We expect that eventually, nearly all VR games will be made to work on both headsets, but right now Oculus boasts quite a few existing and upcoming exclusives (which we aren't exactly happy about, but they are a factor).
If you have the cash and a big room, the Vive's wall-mounted sensors provide the best room-scale VR we've experienced. Additionally, the Vive Pro is much more comfortable than the original Vive, and ups the resolution to 2880x1660. This makes it easily the best performing and most comfortable VR headset we've ever tried.
But as mentioned previously, the main reason we can't recommend the Vive Pro above a regular Vive package or the Oculus Rift is that for $800, you don't get the sensors or controllers—pricey! But if budget truly is no issue for you, the Vive Pro with controller and room sensors will hands down provide the best possible experience.
Oculus Go
The best introductory headset
Display: LCD | Resolution: 2560 x 1440 | Refresh Rate: 60-72Hz | Field of View: 100 degrees | Controller: Single proprietary controller | Connections: Standalone (includes a 3.5mm output jack)
Completely standalone
Lightweight and inexpensive
Modestly specced compared to pricier headsets
Coming in at only $199, the Go is easily the least expensive headset on our list, and that's only the tip of the potential savings. Because the Go is a completely standalone headset, you don't need a PC of any kind to make use of it, much less a pricey mid- to high-tier PC that more expensive headsets require. Despite that, and its low price, the Go is still a fairly robust headset; it doesn't stack up against the Rift or Vive Pro, but it still delivers an impressive 2560 x 1440 resolution and 100 degree field of vision, just ten degrees less than the Vive Pro.
One of the major annoyances of any kind of room scale VR, or really any virtual reality experience that requires you to stand or move around at all, is that you're constantly in fear of tripping over or getting entangled in all the wires trailing off of the headset (or those leading to the sensors). Because the Go is standalone, that major hindrance is completely removed, providing a much more comfortable, secure experience. While the Go doesn't track you moving through space the way the Rift does, eliminating all the wires also eliminates a lot of the discomfort associated with being tucked inside a headset. And speaking of comfort, the Go feels downright cozy when it's properly cinched to your face - the inner lining is soft and pillowy and there are no hard plastic ridges creasing your skin.
The Go may not compete with the Rift of the Vive Pro, but it doesn't compare favorably to the similarly specced PlayStation VR offering. For a set that packs all of its required components inside a tiny gray box attached to your head, it's an incredible piece of technology with a solid library of offerings, and it also has the advantage of not requiring lengthy setup or configuration, meaning it's really easy to pull out anytime you want to wow your family or introduce your friends to the wonders of virtual reality.
An ever changing landscape
The competition is neck and neck. HTC is diverting most of its attention to improving its VR products, having recently sold off its mobile phone division to Google for $1.1 billion, and plans to divert significant portions of that money towards VR development. LG is also developing a SteamVR headset, and several other companies are showing off prototypes. Our recommendation could change quickly, so we'll be keeping an eye on the news and updating this article as new games and headsets are announced and released.
VR is still very young, so any investment right now comes with the caveat that a better headset might release next year, or a price drop could be around the corner. Much like the early years of PC gaming itself, we expect leaps in quality to come fairly quickly, meaning that this is a high-end purchase that likely will not stay cutting edge for more than a year or two. That said, the current VR experience with either of the Oculus models or a Vive Pro is a lot of fun.
Things are moving quickly, so watch this space. But for the foreseeable future we'll continue to recommend the Oculus Rift as the most affordable, comfortable package with the best software.
Some online stores give us a small cut if you buy something through one of our links. Read our affiliate policy for more info.