Best of Minecraft
Minecraft skins: New looks
Minecraft servers: Online worlds
Minecraft commands: All cheats
Minecraft mods: Beyond vanilla
Minecraft shaders: Spotlight
Minecraft seeds: Fresh new worlds
Minecraft texture packs: Transform
Looking for some Minecraft house ideas to inspire your next project? The sky really is the limit when it comes to building your dream home in Mojang's blocky sandbox, but sometimes you need a little motivation to unleash your inner architect. Luckily, we have plenty of inspiration right here for whatever you have in mind. Whether that's treehouses, modern houses, survival houses, and everything in between.
If you're new to Minecraft's vast world, it's a good idea to get the basics down first. Learning how to build a Minecraft house is a good place to start and will teach you the fundamentals. That way, you'll be fully prepared for when you embark on a bigger, more ambitious project.
That's not to say that everything on this list is going to take weeks of planning and building—there are some simple ideas to get your creative juices flowing too. Of course, you don't need to replicate these houses brick by brick either. Sometimes you just need an idea to lay the foundations for your own creation. So if you're ready to get inspired, these fresh Minecraft house ideas should help pave the way to your dream home.
Minecraft house ideas: survival house ideas
TheMythicalSasuage has designed the perfect Minecraft survival house. This 8x8 cabin not only looks great, but it's also easy to build and takes no time at all, making it the perfect place for when you first start a survival map. Just because you're starting out doesn't mean your base needs to look basic.
This Minecraft survival house by Minecraft Today is super simple, easy to build, and also has some lovely homely touches without lots of extra resources. This small base is built mostly from stone and oak, and Minecraft Today has added some lovely little touches with a small garden out front and a huge glass window so you can see who or what is approaching your new home.
Minecraft house ideas: wooden house ideas
Minecraft wooden house ideas
To kick off the list is Zaypixel's Autumn cabin, a home complete with a thatched roof, cushy fireplace, and plenty of pumpkins. This cabin is on the snug side and I love the brick accents throughout the exterior of the cabin. Zaypixel's tutorial is super easy to follow and together with its soft piano score makes for a relaxing watch even if you're not planning on building.
Looking for a wooden house that's a little more impressive? Check out JUN MAB's huge, wooden house which can be built in either survival or creative mode. This home is multilayered and a great base for spotting from afar.
Minecraft house ideas: farmhouse ideas
Minecraft farmhouse ideas
If you would like a more traditional farmhouse then TheMythicalSausage's farm build is just for you. The allotment for farming is placed right next to the home and has an interesting round shape instead of a square. The wooden bench on the front porch is also a lovely touch.
JUN MAB's is back on the list again with their farmhouse build, which is simply stunning. Instead of having the farm allotment and house separated, they have cleverly tied the two areas together in a staggered structure creating one complete build. Super easy tutorial to follow, and I highly suggest you take a look at their other videos for more beautiful builds.
Minecraft house ideas: treehouse ideas
Minecraft treehouse ideas
Ayvocado's treehouse tutorial is one to watch for a quick and easy build. The ladder for this house is built into the trunk of the tree and there's even a little wooden veranda that you can use as a lookout.
This treehouse build by Mr Mirror is built around the trunk of the tree instead of inside it, so offers a 360-degree lookout. There's also plenty of space inside for all your crafting equipment and a place to rest.
This build is not a treehouse, but I wanted to include it in our elevated homes section because SheepGG's hanging house is gorgeous. A creative solution for those looking for the ultimate view, this hanging house is a cosy little nook, but only if you can stomach the look down.
Minecraft house ideas: modern house ideas
Minecraft modern house ideas
JUNS MAB's builds are back with their take on a modern Minecraft house. Clean lines and minimalist designs transfer really well into Minecraft's blocky world and this modern build definitely fits the bill.
Rizzial has a bunch of slick house ideas on their Minecraft channel but this modern house build stuck out because it's slightly bigger with three whole floors. I love how angular this build is and the brick, wood, and white blocks balance each other out perfectly.
Modern Minecraft houses are plush enough, but what about a modern Minecraft house on water? Knight's modern house has been built to make it look like it's floating effortlessly on water. It's a build that definitely benefits from some of the best Minecraft shaders, but it's stunning nonetheless.
Minecraft house ideas: underground house ideas
Minecraft underground house ideas
When I think underground base I just think of a shabby bunker, but ItsMarloe's underground base has blown my expectations away. It's not exactly inconspicuous, but it certainly has plenty of style.
Another stylish Minecraft underground base is from Tanol Games, who's build kind of looks like a Pokéball. The really cool thing about this base is that there's a tree at its centre, bringing some life down into the blocky, earthy depths.
Minecraft house ideas: Japanese house ideas
Minecraft Japanese house ideas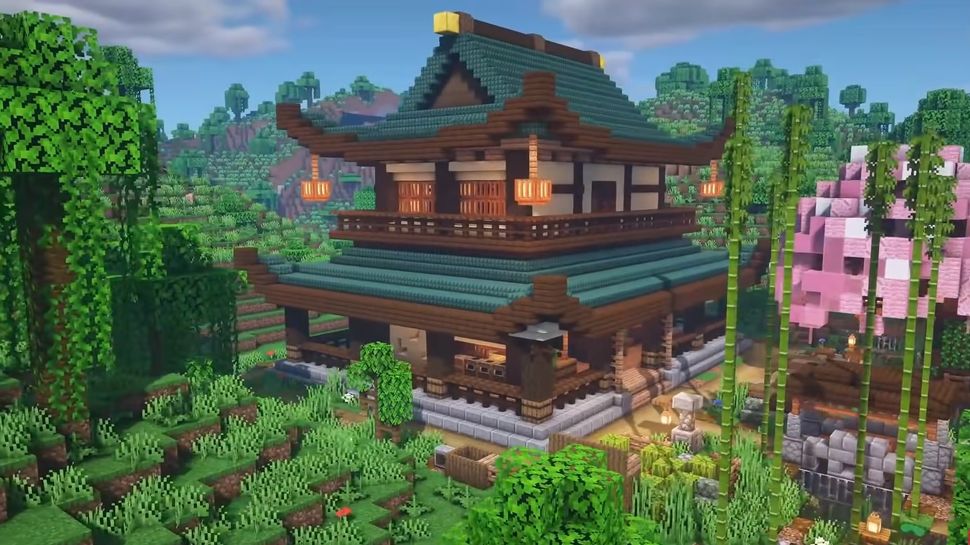 BlueBits' Japanese Minecraft house is one of the most elegant builds on this list. What makes this build stand out is the blue roof blocks that really make the whole project pop. If you want a delicate Japanese garden to match, you can check out the second part of the tutorial on how to build just that.
BlueNerd's Japanese Minecraft house tutorial might look like a beast at forty minutes, but it's super detailed and full of little design details worth checking out. The bamboo and lanterns really bring the whole build together.